Written by Liza-Jane Sowden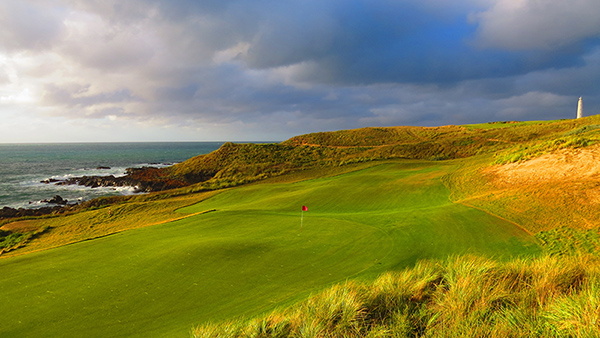 The newness of Spring ranks a close second to all the newness we've got on the island right now! We've worked hard over the cooler months – like the industrious little devils we are – to add to the best experiences, encounters and indulgences. And now they're springing to life before our very eyes!
Cape Wickham Golf Course, King Island
Word on the street is that Cape Wickham golf course on King Island will be one of the world's top 100 courses. Windswept and wild, the course is due to open on 30 October 2015 with 20 guest rooms ready by New Year's Day. The scene is dramatic; rugged cliffs spilling into the ocean, wild beaches, ever-changing dunes and 18 holes meticulously crafted right by the coastline. No farm sheds, no houses, not even a tree to signal civilisation, but there is a proud lighthouse. Standing 48 metres tall, Cape Wickham Lighthouse is Australia's tallest and a monumental backdrop worthy of this course. www.capewickham.com.au
Barilla Bay Oysters and Candy Abalone Tours
Everyone loves a good collaboration and this one is a corker. Barilla Bay Oysters, who have been farming their premium oysters outside Hobart for 35 years, have teamed up with relative newcomers, Candy Ab, who process superb abalone next door. Tours are $35 and take guests on a farming and tasting tour from oysters to abalone, via a crushed abalone shell path linking the two farm gates. www.barillabay.com.au/tours
The Tarkine Drive
This newly opened tourist drive takes travellers deep into the Tarkine wilderness in Tasmania's North West. Experience unique flora and fauna, globally significant rainforests, ancient indigenous heritage, wild riverscapes and dramatic coastlines. The Drive is full of short walks, lookouts and stunning stopovers. Choose to do the coastal section as a one-day trip and return for the rainforest section, or do both across a two-day drive. Highlights include Lake Chisholm – a flooded limestone sinkhole, and Sumac Lookout – overlooking Sumac Island in the Arthur River. www.discoverthetarkine.com.au
Tasmanian Cider Tours
While the traditional enjoyment of apples is driven by the seasons, cider-makers are blurring the lines of when these seasons start and end – making cider as refreshingly summery as it can be winterly and warming. Tasmanian Cider Tours have the inside story on the perfection of Tasmanian cider – on their tours guests visit four cider houses in a day, meeting the cider-makers, walking the orchards and tasting up to a dozen different styles of Tasmanian cider. Small group tours are $199. www.tasmaniancidertours.com.au
Hundred Acres
Hundred Acres at Ghost Rock Winery is all about the full paddock-to-plate experience in Tasmania's north. The region is home to some of Tassie's most productive soils, and Ghost Rock are celebrating with the opening of a new food and wine destination. The million-dollar interpretation centre and winery allows Ghost Rock to produce award-winning wine onsite and take visitors through the whole production story – from vines to wine glass. And don't forget to ask about the legend of Ghost Rock!http://www.hundredacres.com.au/
Trowunna Tours
With a rich history dating back over 40,000 years, choosing the highlights reel for Tasmanian Aboriginal history was always going to be tough. Tasman and Sheldon from Trowunna Tours share their proud Indigenous heritage and ancient first nation knowledge on the three hour tours from Hobart. Enjoy a cultural walk on kunyani / Mount Wellington, learn about bush medicine and tucker, and find out more about healing and smoking ceremonies and what they mean for the local Aboriginal people. Trowunna means 'heart shaped homeland', a name given to Tasmania by greatly respected late elder Auntie Ida West - an indication of the heart in these tours, not to be missed. Adults are $75 per person, with family and child tickets available. www.trowunnatours.com
Wynyard Pods
Owners Cyndia Hilliger and Justin McErlain just made hanging out in shipping containers very cool. Up-cycled, decommissioned containers are the shell for two ultra-stylish pods with front-row water views of the Inglis River in North West Tasmania. Aptly named Port and Starboard, Coastal Pods Wynyard come equipped with a reading nook bathed in northern sunshine, and are fully self-contained. Architecturally designed, each pod affords luxury through ingenious use of re-purposed materials. Generous deck, kitchen, laundry, king-sized bedrooms and ensuite come standard with these chic pods. Oh, and the stylish fit-out blends effortlessly with function and energy efficiency. It's pod-perfect! www.coastalpods.com
The Ultimate Weekender with Freycinet Adventures
Spend the weekend in, on and around Wineglass Bay with the new Ultimate Weekender tour from Freycinet Adventures. Aimed at beginner-level sea kayakers and walkers, the weekend starts with a glass of Tasmanian wine, in a wineglass overlooking Wineglass Bay. Oh the synergy! Heading south, this spectacular paddle involves a night at Hazards Beach, the guide expertly setting the camp up leaving time for lots more exploration. Day two takes guests back to Coles Bay past pink granite coves and white sandy beaches. With three to four hours of padding each day, it's a gentle way to see more of the stunning East Coast.www.freycinetadventures.com.au
Woolnorth Dinner with the Devils
The air doesn't get any cleaner than at Woolnorth in Tasmania's far North West coast – home to the Bluff Point Wind farm. And a few little devils. This new tour takes in the exhilarating view at Tasmania's largest wind farm and the ever-changing landscape on the impressive west coast cliff-line. Guests will enjoy the view to the Southern Ocean as the sun begins to set, then retire back to the Woolnorth Director's Lodge for dinner with Tasmanian wines and local cheeses. Entertainment comes in the form of the nocturnal Tasmanian devils who come out to play after dinner. Tickets are $165 per person. www.woolnorthtours.com.au
Salamanca Walk
Salamanca Place, in the heart of Hobart town, is the place to wander aimlessly from shop to bar to shop again. For those with a thirst for knowledge as well as a local refreshment, join a Salamanca Walk to learn the extensive history of the area. The Salamanca Arts Centre marks the start of the journey through Hobart's history, from the Mouheneener band of Tasmanian Aborigines who fished here for thousands of years, to convict and whaling times, through to the architectural history of the sandstone-laden area. English and Mandarin tours available.www.salamancawalk.com
Coral Expeditions
Fancy spending seven nights aboard a classic catamaran cruising the pristine East Coast and remote Southwest in fully-inclusive luxury? We thought so. Coral Expeditions has announced its inaugural Tasmanian itinerary. Accommodating just 46 guests in 23 on-board rooms, highlights aboard Coral Expeditions I include two days exploring the Tasmanian Wilderness World Heritage Area at Port Davey and Bathurst Harbour, a visit to the the Freycinet Peninsula and the iconic Wineglass Bay, and exploring the remarkable history and wildlife of Maria Island on Tasmania's East Coast. And naturally, the onboard menu will feature the freshest of Tasmanian produce and wines. The first of 16 departures embarks 16 November with the inaugural season lasting until February 2016.www.coralexpeditions.com
Coal River Farm
Tasmania's latest farm-gate and food experience has opened in the Coal River Valley, just 20 minutes drive from downtown Hobart. Coal River Farm provides a special combination of small batch cheese, fine chocolates, pick-your-own berries and orchard fruit, and freshly prepared meals with an emphasis on Coal River Valley produce. It's an easy inclusion in the perfect indulgent family day out. Coal River Farm is open seven days, 8am to 6pm with all day dining.www.coalriverfarm.com.au
For a full and up-to-date listing of Tasmanian events, and information on travelling to Tasmania, visit the Discover Tasmania website www.discovertasmania.com.au.