Celebrity Chef Matt Golinski to spice up kitchen at Peppers Noosa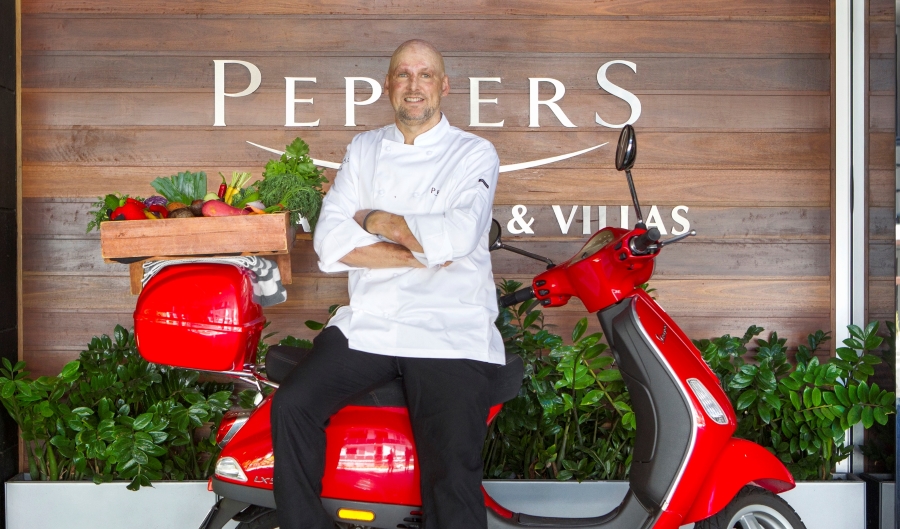 Celebrity Chef Matt Golinski has joined the team at Peppers Noosa Resort and Villas to head up the kitchen at View Restaurant as the hotel's new Food Ambassador and Advisory Executive Chef.
Adding a fresh approach to View Restaurant, Matt hopes to use more seasonal locally-sourced produce in his flavoursome new dishes planned for breakfast, lunch and dinner from April 3.
A Noosa-local himself, Matt said when he was offered the opportunity to head up View Restaurant's kitchen at Peppers Noosa, he jumped at the chance.
"I have always loved both the brand Peppers and in particular Peppers Noosa," said Matt.
"Each Peppers property captures the essence of the location it is in and takes advantage of their own geographical location to give guests an experience suited to that region but Peppers Noosa is by far my favourite.
"I love the place, the people, and the professionalism of everyone who works there and I think View Restaurant has great potential to be a fantastic showcase for fresh seasonal ingredients from local producers.
"My philosophy is to give our customers a genuinely local experience, using only the freshest ingredients sourced from local farmers and producers.
"To encourage the rest of the staff at View Restaurant to really embrace that philosophy, I want to ensure I can take them on the journey with me so I will be taking them to some of the local farms I love because once they experience it and understand where these ingredients are coming from, they will be able to convey those messages to our customers."
Some of the new dishes Matt is looking to launch include are:
-          Tin Can Bay Whiting, Endives and Grapes, Macadamia Picada, Sherry Caramel
-          Bendele Farm Spatchcock, Pork and Fennel Sausage, White Beans, Grilled Cos, Salmoriglio
-          Jersey Milk Ricotta Cannoli, Fresh Figs, Lemon Gelato and Cinnamon Honey
New menus will roll out in View Restaurant from April 3 and to celebrate, Matt will launch an introductory Local's Lunch Special which includes two courses and a glass of wine for $25 – available seven days a week.
Peppers Noosa is located at 33A Viewland Drive, Noosa Heads, Qld and View Restaurant is open for breakfast, lunch and dinner seven days a week. Bookings are essential so book now to avoid missing out by calling (07) 5455 2209 or head to www.peppers.com.au/noosa. 
For media enquiries: Bridget Dixon, Mantra Group Public Relations Manager on 0434 738 380 or bridget.dixon@mantragroup.com.au
About Peppers Retreats, Resorts & Hotels
For over 30 years, Peppers has been providing distinctive travel experiences through its unique mix of private self-contained apartments and hotel services. Peppers resort apartments, rooms and suites are in many sought-after holiday destinations, while Peppers Retreats bring to life the character of a region, with scenic surrounds, tailored activity offerings and fresh local produce featured on the dining menu. Likewise, Peppers city hotels capture the essence of their localities by combing modern comforts and high standards of service with innovative urban design and metropolitan menus in their restaurants. www.peppers.com.au