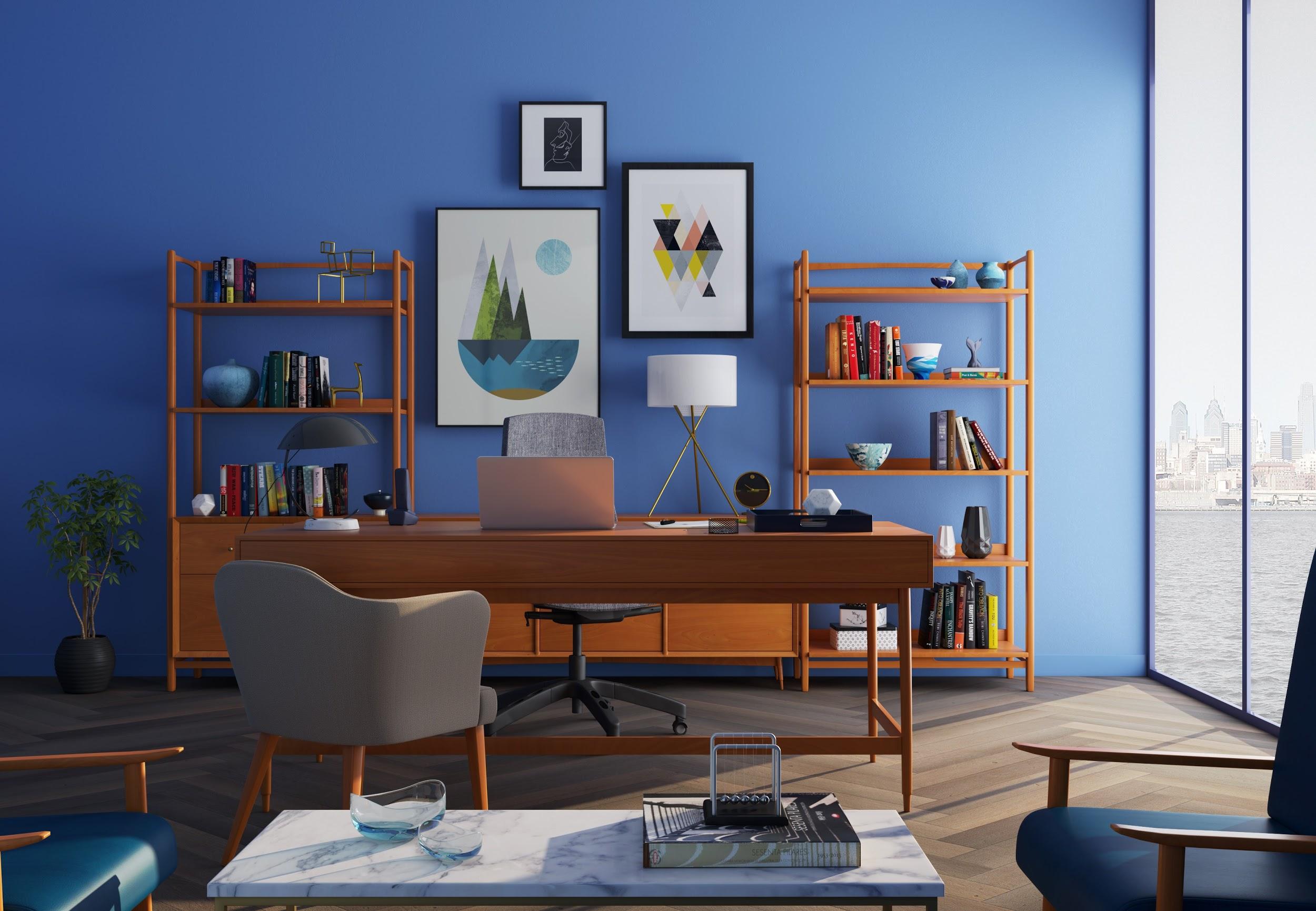 Breadwinning, as always has been an important part of life to live with integrity. Sometimes, people do more than one job a day to earn more and live up to the mark. In modern times, therefore, creativity and productivity with regards to earning attract the consumer. For this task, a man does not necessarily need a dedicated office but can turn his home into an office too. Additionally, a man has always desired to work from home because of the edges that he can get including time flexibility and least investment.
Office furniture firstly, in this regards plays a vital role as this is the basic requirement of the task defined above. This moreover, enhances efficiency in a non-traditional working environment for a businessman. Generally, proper office space requires a computer equipped with an active internet connection and printer to have hard copies in hand and comfortable desks that are the centerpieces of the main area and reception too. Depending on the types of businesses, most suitable areas to be turned in an office are the library, garage or study rooms as they have the basic needs and space to be adjusted.
Before moving towards the main part, shedding light onto the personality of the person who actually initiates a business is worth paying attention to. For an intellectual, having significant information or prior working experience in the related field is very important. No one can actually start a business all of a sudden and make it successful. The learning process in the form of education in the related field and experience in the field is significant.
For example, running even a stitching unit cannot be successful if he does not know about the types, quality of clothes. Know-how of the estimated investment, suitable equipment, suitable team, track records, and storage spaces is crucial. Intellectuality, taking risks, courageousness, emotional stability, selfishness with accountability and wise mentor is all one businessman needs to be successful.
Moving forward, To-do list to turn home into an office is elaborated below:


Investment
The first step after the identification of the business is the investment that he/she will require for certain businesses to go smoothly. Depending on the types of business starting even from cooking/Yoga classes etc. till the opening of home pharmacy etc. investment is required to furnish the office space with equipment including computer, fax machine, copier, printer, telephone, office furniture, etc. Some businesses (photography) do not necessarily require a working space. Therefore, the investment is low for the working space and more dedicated to the equipment that includes HD cameras, lenses, drones, printers, etc.


Identification of working hours
A rough demarcation of working hours is necessary to accomplish a task within the due date and timing. Although home offices got the edge of flexible working hours, specified hours attract and bound the customers too. A person may have 2-3 slots within a day to provide ease to the customers too. Random working hours suiting just the head can lead to drastic mismanagement and let the customers disperse. Moreover, the home office also requires time management that can be done easily if the working hours are specified.


Equipment
Equipment is important to actually start working and implementing the ideas of businesses. It includes comfortable seating, portable apparatuses, bright lightening and modern technology to keep people updated. Some businesses (home appliances/ decorating stuff/ clothing/ money exchanging) require a minute to minute updating. Updating can successfully be done if the equipment needed is efficient and working properly.
Equipment of all types and in all businesses demands time and money both and makes a business running smoothly. Bright lighting is also very important if the business is a sort of handicrafts, sewing, knitting, etc. It requires natural light too. The suitable area in this business can be a garage, lawn or a room that has basic matching lights, headlights, bulbs, LED and CFL, etc. Concentrated lamps, in this case, are also very important. Dull lightening otherwise can affect eyesight that can lead to drawbacks.
A business, therefore, requires health assurances for the best working of employees and clients if they are somehow involved too. Hence, this part requires consultation of the relevant people and considerable time if the person is new into the field. This is significant as turning home office is the most challenging task to attract the consumer in a non-traditional environment.


Dedicated space/area/room that has storage space too
A specified area is highly important for any type of business as it separates the home from the office. The dedicated room should be wide enough to be adjusted according to the business. If the room is too small, even the seating arrangement would not be comfortable. A good organization to adjust furniture, files, storage areas, and equipment is mandatory. Moreover, the desired furniture with all necessities will be either unavailable or too expensive to buy from the market. In this regard, sometimes, creativity is required.
The dedicated area should be environment-friendly having cross ventilation too. It should have proper storage space so that the tracking records can be put down easily. It should remain neat and clean to work properly. It should be a room that does not provide easy distractions. For example, too many windows making noise clear, etc. should not be an irrelevant room as the kitchen is a drastic choice for Yoga.
Likewise, decorating a lawn or furnishing library is not suitable for cooking classes. A dedicated room for the office must have privacy, especially from children. If the business is more about meeting people e.g. for consultancy with e medical doctor/ psychiatrist etc privacy is the most important need of the patient. In this case, a dedicated room should be near to the main or exit gate of the house.


Professional phone
This is one of the most important requirements to separate official duties from home. Business-related people, clients/consumers/patients can get into touch with this number so that any sort of mess can be avoided. This provides legitimacy to the business as well. The same answering machine for business-related people and family can confuse both the parties.
Moreover, a person has a high chance of missing professional messages if uses the same phone. The same phone will obviously not restrict other family members to use the phone and mismanagement can cost high. Separate phone lines/numbers can keep up the privacy feature of the clients too.
On the other hand, it benefits as business-related people cannot contact the family timing. Otherwise, the overdose of business can upset the family too. And a good man to avoid any hustle manages between both especially if it is a home office.


Related software
Software is an essential part of modern-day businesses. Nowadays, software related to each and every field has been introduced for the ease of customers and users too. An unrelated or the older version of the software in any business can significantly contribute to letting it down. A home office, therefore, has less chances of overcoming a business letdown. A software if makes life easy can also destroy business in seconds.
This can keep a record of the mess and can permanently delete it too because of one mistake. Proper software usage requires skilled people having related educational/ professional background. Adobe Photoshop, for example, is graphic programming software and cannot be used for making sheets, tables, etc.
Likewise, excel is best for calculations, etc. and not for graphic designing or so. Gaming software, editing software, calculating software, etc. are dedicated and cannot be used interchangeably.


Rules and regulations
Last but not the least setting rules for the employees is an integral part to keep discipline even working from home. A home office should provide flexibility but not a room for losing professionalism. Attendance rules, working tasks, due date's rules, etc. are the most important features on which rules can be made to maintain efficiency. Marinating privacy sometimes in some businesses is also a part of rules.
Psychiatrists sometimes assure privacy due to the taboo of mental abnormality existing in society. Rules are important if the person is running a business all alone e.g. baking and if with a whole team e.g. stitching, knitting, etc.


Conclusion
Turning home into an office requires sometimes basic things yet it is challenging for a person too. It needs an official environment while being flexible. Flexibility, however, cannot be taken as a compromise on professionalism. Investment is the first and most important task to turn home into an office. This is followed by separation home and office (space/room) assuring privacy.
The working environment should be distraction-free with cleanliness as a mandatory feature. Providing some freshness to the eyes with greenery/painting can also upgrade the efficiency of an employee. Rules and regulations for everyone at the home office assure discipline.
Specifying working hours are mandatory for clients and businessman too to have a break from the office load. Hence, the defined salient features of the home office assure a good start and smooth running of any business.