ClickClack Pantry Range | Helping Australians save time & money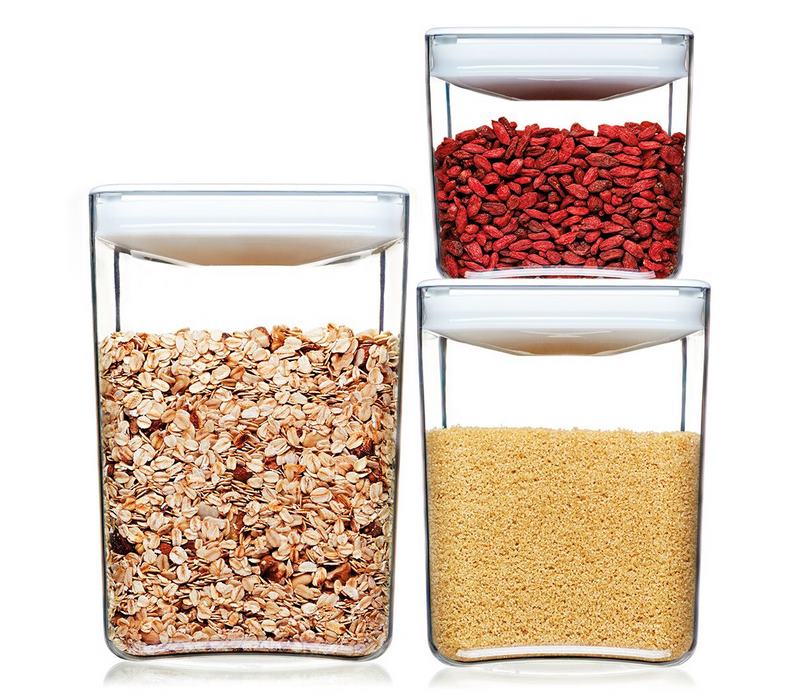 A well-organised pantry can help Australians make healthy food choices, build time-efficient habits, save money and limit food waste, according to ClickClack, an iconic New Zealand company dedicated to producing elegant and incredibly helpful kitchenware.
The kitchen is one of the highest foot traffic areas of the home and for many Australian households, it can be one of the most disorganised. According to ClickClack, clutter control can help consumers save time, money and food waste, and live a healthy lifestyle.


 HELPS SAVE MONEY ON GROCERY BILLS
The kitchen pantry is one of the most used cupboards of the house, but it can also be one of the most chaotic. If your pantry is so full and jam-packed with items and ingredients you can't easily view or access, you are more likely to re-purchase that item without realising you already have it. Organising your shelf space can help you save money on grocery shopping.


HELPS REDUCE FOOD WASTE
In Australia, about one in five shopping bags end up in the bin, costing each household approximately $3,800 worth of groceries per year1. Additionally, about 35% of the average household bin is food waste2. A tidy pantry with items that are clearly labelled can help lead families to use food before its use by date, therefore reducing your household's overall food waste.


HELPS AUSTRALIANS MAKE HEALTHY FOOD CHOICES  
A beautifully organised pantry with easy access to healthy foods can help lead to less take-away and more cooking at home. You can also arrange your pantry so that any junk food, such as chocolates and cookies is hidden away from sight. 


HELPS CREATE TIME EFFICIENT HABITS
Organising your cupboards may seem like a mammoth task at first, but in the long run it can help you save a lot of time and stress. An orderly pantry with easy access to all items and ingredients can lead you to create time saving systems and processes such as easier meal planning and preparation, and efficient grocery shopping unpacking.
ClickClack's pantry range, available from selected leading homeware stores nationwide including Myer and Kitchen Warehouse, offers a collection of stylish solutions to help Australians tidy and streamline their kitchens and pantries with no fuss. 
The pantry products offer a selection of ultra-modern and sophisticated round and cube containers. The range is perfect for storing pantry staples including flour, sugar, pasta and more. To keep your pantry shipshape, the range is ideal for storing all kinds of snacks and ingredients from dried peas to peanuts, cocoa to coconut; you name it!
 "A lot of consumers have a love/hate relationship with their pantries. On the one hand, it houses all the delicious food we eat and on the other hand, it's the one place in the home where it gets easily crowded, messy and disorganised," said ClickClack spokesperson, Kelly West.  
"That's where our incredibly useful and durable ClickClack pantry range comes in! They can be purchased in two shapes – cube and round – and they come in all different sizes to fit and store just about anything. They're not only chic and stylish, but they're also handy and versatile. They're BPA-free, air tight, easy to stack and easy to open," she said.
"Our goal is help busy Aussies make life smoother, less stressful and more creative. We can help families save time, money and calories, and limit food waste. We love helping you prepare, cook, heat, chill and store food with our multi-talented range of airtight, space-efficient and BPA-free storage solutions," she said.
ClickClack also offers an award-winning range of gadgets - from potato mashers and tongs to measuring spoons and graters - to help you whisk, mash, measure, slice, serve and stir and cook up a storm. If it's durable, good-looking and practical, it's ClickClack.
For more information, visit www.clickclack.com.
1 https://www.epa.nsw.gov.au/wastegrants/organics-infrastructure.htm
2 https://www.epa.nsw.gov.au/wastegrants/organics-infrastructure.htm