Heaven is the Adelaide Hills
Looking for a quick getaway? Enjoy food and wine? How about stunning countryside? Look no further! The Adelaide Hills has something for everyone. We flew to Adelaide for a weekend-getaway to a few of our favourite places.


Stirling


Only a 15-minute drive from the city up the freeway you'll find Stirling, our favourite spot.
Stirling is the quintessential hills-hamlet, nestled among thick forests near Adelaide's tallest peak, Mount Lofty.
Established in 1854, Stirling was founded by two Adelaide gentlemen on 191 acres purchased from the South Australian government, who had sold the land to encourage development. At the time the area was known as The Tiers, a dense bushland area sparsely-populated by escaped convicts, runaways from ships and other miscreants referred to collectively as 'The Tiersmen'.
Development achieved its purpose, and many wealthy Adelaideans purchased tracts of land and erected country mansions to which they could escape from the sweltering Adelaide summers. The area is now one of the most exclusive Adelaide suburbs with many fine homes as well as many fine restaurants, cafes and related amenities.
If you're in the mood for a coffee and a bite to eat, you'll be spoiled for choice. Our favourite is The Organic Market and Café. There you'll find terrific coffee and a range of vegetarian, whole-food meals designed to nourish the soul and the senses.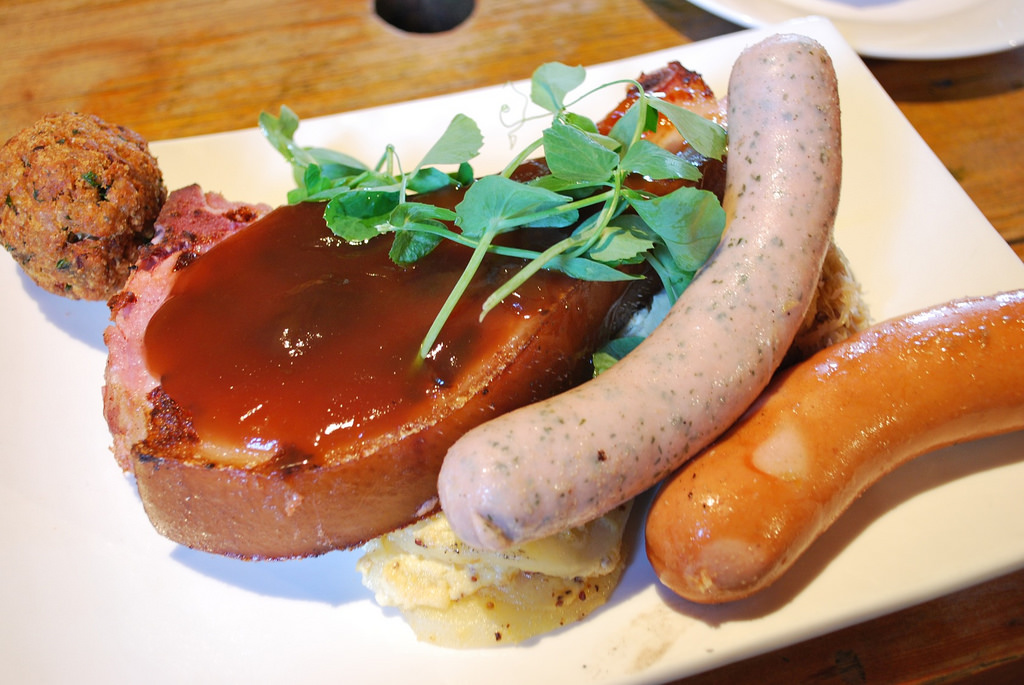 Credit : German mixed grill by rubenerd is
licensed under
CC BY 2.0

Source: Flickr
The Stirling Hotel has recently undergone a major renovation to become the acme of gastropub fine dining, with wood-oven pizza, mid-range bistro dining and high-end fine dining rooms, and a stunning indoor/outdoor bar area.
If you're looking to walk off all those calories then take a stroll to Stirling Linear Park set around Woorabinda Lake. There you'll find stunning natural bushland abundant with local wildlife and wild flowers and walking trails to explore it all.
The neighbouring townships of Aldgate, Crafers and Mylor contain countless gourmet cafes and other hidden gems, so it's worth setting aside a day to explore them all.
Hahndorf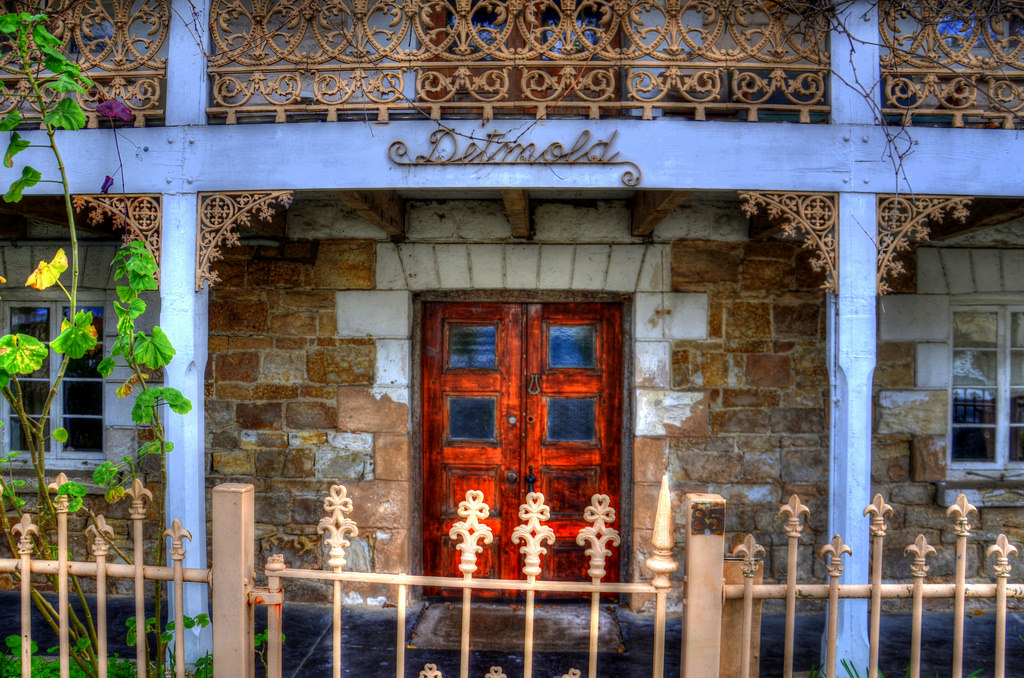 Credit : Detmold House, Hahndorf by ChrisFithall is licensed under CC BY 2.0
Source: Flickr
Just 10 minutes up the road from Stirling is the historic township of Hahndorf, Australia's oldest surviving German settlement. The town takes its name from Captain Hahn of the Zebra, who transported a group of persecuted Lutheran emigrants on a 129-day journey which claimed the lives of six adults and five children. Captain Hahn helped the 189 surviving settlers acquire land in the hills, and in thanks for him ensuring their safe passage to new lands, named their new settlement after him.
Today Hahndorf is one of the busiest tourist destinations in South Australia. The many historic buildings are now home to many fine restaurants, hotels, cafes, local-produce stores and other tourist delights.
Nearby Beerenberg farm has been owned and managed by the Paeche family since their arrival from Prussia in 1839, and is now a leading Australian exporter of gourmet, preserved-produce. In summertime, visitors can roam the sprawling hillside and pick their fill of strawberries, just like Grandma Paeche did when she made her first batch of strawberry jam; still one of the family's best-sellers.
The Adelaide Hills is also home to many international award-winning wineries. Renowned for its cool-climate grape varieties that thrive in the high-elevation and loamy sands, the area boasts an abundance of vineyards, cellar-doors and restaurants that make the perfect stopping-off point on a journey through the picturesque countryside.
Only an hour from the Adelaide Hills you'll find other internationally-renowned wine regions such as the Barossa Valley and McLaren Vale.
The Adelaide Hills is an affordable holiday destination that won't break the bank, so book a ticket today.
Stay in one of the many boutique hotels or growing number of AirBnBs and wake up in paradise to the calling of kookaburras and rolling green hills. You may want to stay forever.