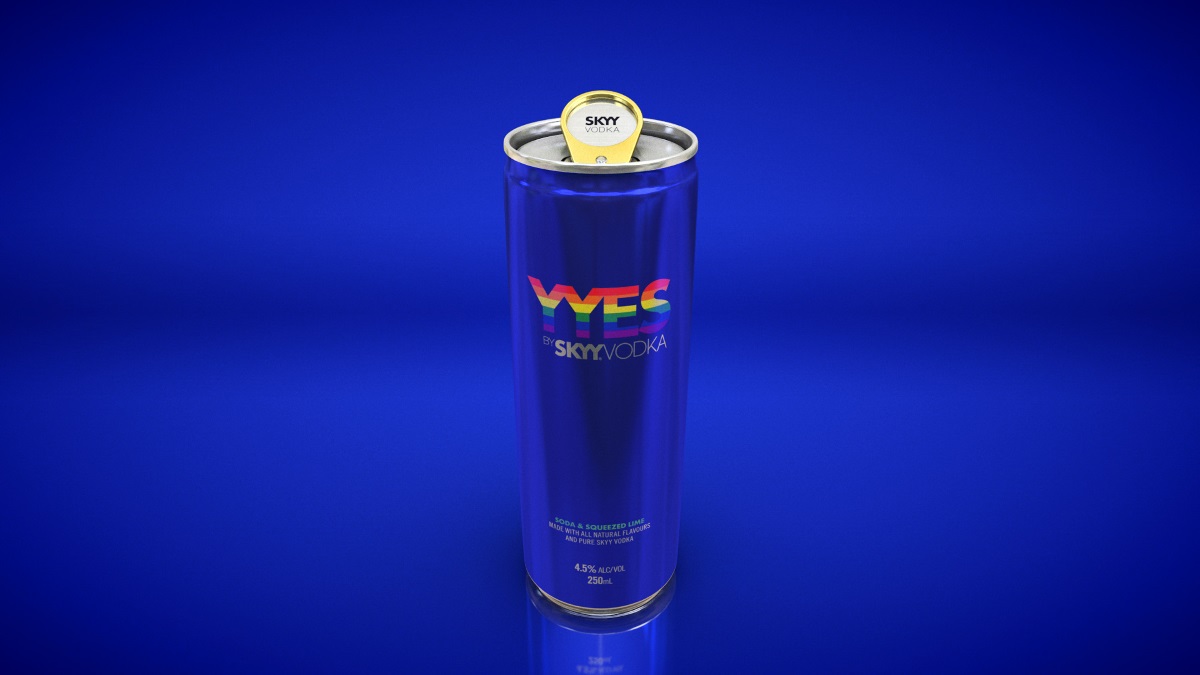 To celebrate that same sex marriage is finally a reality in Australia, SKYY Vodka is releasing a limited edition can with a twist: a premix drink that says YYES to the spirit of love and YYES to equality for all.
In a world first, a limited number of the rainbow YYES cans will be fitted with an 'engagement ring'- a polished ring pull finished with a sparkly cubic zirconia, encouraging Sydney-siders to pop the question to their special someone.
SKYY Vodka was born in San Francisco, a melting pot of innovation, open-mindedness and inclusion, and has embraced this heritage by celebrating diversity around the world. After being heavily involved in the marriage equality movement in the US they continued to challenge the status quo here in Australia with the launch of #CheerstoEquality in 2017. Now that marriage equality is a reality, SKYY are giving residents of Sydney the opportunity to celebrate achieving this milestone with the limited edition YYES product.
SKYY Vodka's Marketing Director, Nicole Stanners, commented: "At SKYY we believe diversity should be celebrated. Since we launched the #CheersToEquality campaign with just.equal in February last year, we've rallied to make equality a reality, and are excited to be part of this proud moment in Australia's history, especially as we're helping LGBTI Aussies get hitched with the launch of these new SKYY Vodka YYES cans."
$1.00 from every YYES product sold will be donated to the just.equal organisation, to support the organisation's ongoing work in addressing the needs of LGBTI Australians through lobbying, community consultation and social media.
just.equal's founder, Ivan Hinton-Teoh, added: "We are proud to once again stand together with SKYY Vodka to show our support for equality and diversity in Australia. The marriage equality campaign has gone from strength to strength, and with the support of SKYY Vodka we can keep up the momentum so that sooner rather than later, LGBTI Australians can enjoy true equality."
Sydneysiders can show their support and get their hands on the new SKYY Vodka YYES cans at Gazebo Wine Bar & Dining, Elizabeth Bay as well as the Liquor on Oxford bottle shop in Darlinghurst from 22 February (while stocks last).
Facebook: @skyyvodka.au
Instagram: @skyyvodkaau
#CheerstoEquality
About SKYY Vodka
SKYY Vodka was invented in San Francisco in 1992 and is steeped with the innovative and progressive spirit of California. Conceived by an inventor looking to create the world's smoothest vodka, SKYY revolutionized vodka quality with its proprietary quadruple-distillation and triple-filtration process to deliver a fresh, clean spirit. Like many things that originate in San Francisco, SKYY grew from a tiny startup into what it is today—the leading domestic premium vodka in the US. To learn more, visit SKYY.com
About CAMPARI GROUP
Campari Group is a major player in the global spirits industry, with a portfolio of over 50 premium and super premium brands, spreading across Global, Regional and Local priorities. Global Priorities, the Group's key focus, include
Aperol
,
Appleton Estate
, Campari, SKYY, Wild Turkey and Grand Marnier. The Group was founded in 1860 and today is the sixth-largest player worldwide in the premium spirits industry. It has a global distribution reach, trading in over 190 nations around the world with leading positions in Europe and the Americas. The Group's growth strategy aims to combine organic growth through strong brand building and external growth via selective acquisitions of brands and businesses.
Headquartered in Milan, Italy, Campari owns 18 plants and one winery worldwide and has its own distribution network in 20 countries. The Group employs approximately 4,000 people. The shares of the parent company Davide Campari-Milano S.p.A. (Reuters CPRI.MI - Bloomberg CPR IM) have been listed on the Italian Stock Exchange since 2001. For more information:
www.camparigroup.com/en
  Please enjoy our brands responsibly.
About Campari Australia
Campari Australia is a wholly owned subsidiary of Davide Campari-Milano S.p.A. (Reuters CPRI.MI - Bloomberg CPR IM), together with its affiliates ("Gruppo Campari"). Launched in 2010, Campari Australia manages Gruppo Campari's portfolio in Australia and New Zealand with leading brands such as Wild Turkey® Bourbon, American Honey®, SKYY® Vodka, Campari®, Russell's Reserve®, Riccadonna®, Aperol®, Cinzano®, Glen Grant® Single Malt Scotch Whisky, Grand Marnier, Espolón® Tequila, Ouzo 12®, Frangelico®, BULLDOG Gin and Sagatiba® Cachaça.  
Campari Australia is headquartered in Sydney.  Please enjoy Campari Australia brands responsibly.

About just.equal
just.equal is about inspiring and engaging Australians in a mature conversation about how, as a nation, we will ensure dignity, respect and equality for LGBTIQ Australians, their families, friends and communities. Find out more at
www.equal.org.au/
or
https://www.facebook.com
/just.equal.aus/