Want to improve your chances of getting a full-time job? A double degree can do that
Written by

David Carroll, Researcher and Senior Manager, Strategic Information, Monash University
Career-related motivations are among the most important factors in Australian students' decision to undertake higher education. This means universities must demonstrate their graduates' ability to find work when seeking to recruit students in an increasingly competitive tertiary education marketplace. Our research shows double degrees (students study for two degrees at once) can greatly improve new graduates' prospects of finding full-time work.
Some combinations increased the success rate by as much as 40% compared to students with a single "generalist" degree. The gains were biggest for students in the arts and sciences.
Yet double degrees are often overlooked as a way to improve graduates' employability. Universities' efforts to improve graduates' employment outcomes generally focus on curricular and extracurricular programs such as work-integrated learning, internships and workshops. These will continue to grow in importance, as graduates are increasingly competing in a labour market where the supply of high-quality graduate jobs is failing to keep up with the production of graduates.
Read more: 1 in 4 unemployed Australians has a degree. How did we get to this point?
However, recent Monash University research, as yet unpublished, shows something even more fundamental to universities — the structure of our educational offerings – can have a major impact on graduates' employment outcomes. In particular, offering double degrees for undergraduates can make a significant difference.
Why offer double degrees?
Monash University has had a long-term focus on strengthening its double-degree offerings. The aim is to give students a more versatile skill set that increases their career flexibility and opportunities.
This focus on double degrees involves a huge resource commitment. It shapes many facets of Monash's operations, from the design of our courses to the physical layout of our campuses.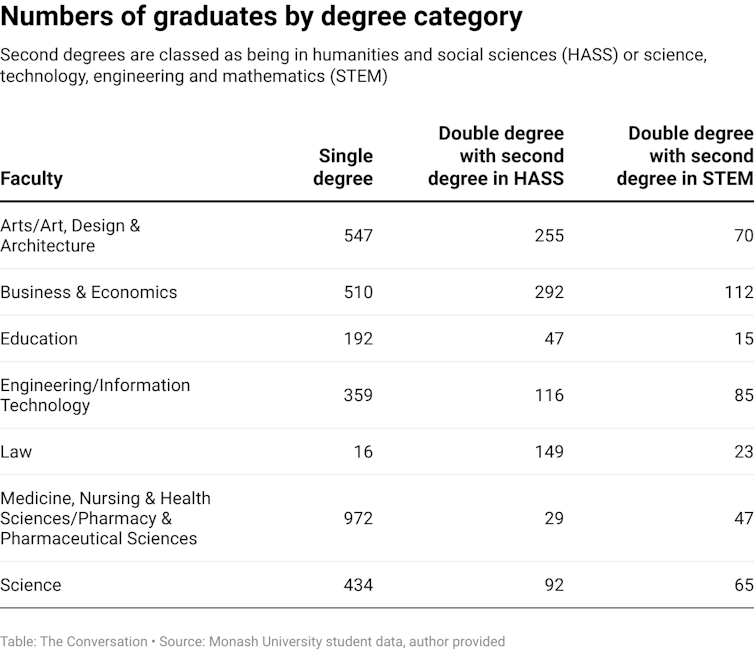 Authors: David Carroll, Researcher and Senior Manager, Strategic Information, Monash University
Read more https://theconversation.com/want-to-improve-your-chances-of-getting-a-full-time-job-a-double-degree-can-do-that-157306