The skin is a very important (and our largest) organ: what does it do?
Written by

Cara McDonald, Consultant Dermatologist, St Vincent's Hospital Melbourne
This article is part of our series about skin: why we have it, what it does, and what can go wrong.
Our skin is a big deal – literally. It's the largest organ in the body and one of the most complicated. It has many roles in the maintenance of life and health, but also has many potential problems, with more than 3,000 possible skin disorders.
Not only does the skin hold everything in, it also plays a crucial role in providing an airtight, watertight and flexible barrier between the outside world and the highly regulated systems within the body. It also helps with temperature regulation, immune defence, vitamin production, and sensation.
The skin is unique in many ways, but no other organ demands so much attention and concern in both states of disease and health. There is a huge focus on skin health, with fierce competition to have glowing, clearer, healthier, younger and fresher skin. And this focus can cause secondary problems with self-esteem and mental health.
So, what exactly is our skin meant to do and how does it impact our life?
The structure of the skin
The skin is divided into three layers known as the epidermis, dermis and subcutis. These layers are well defined but together they allow the skin to function effectively.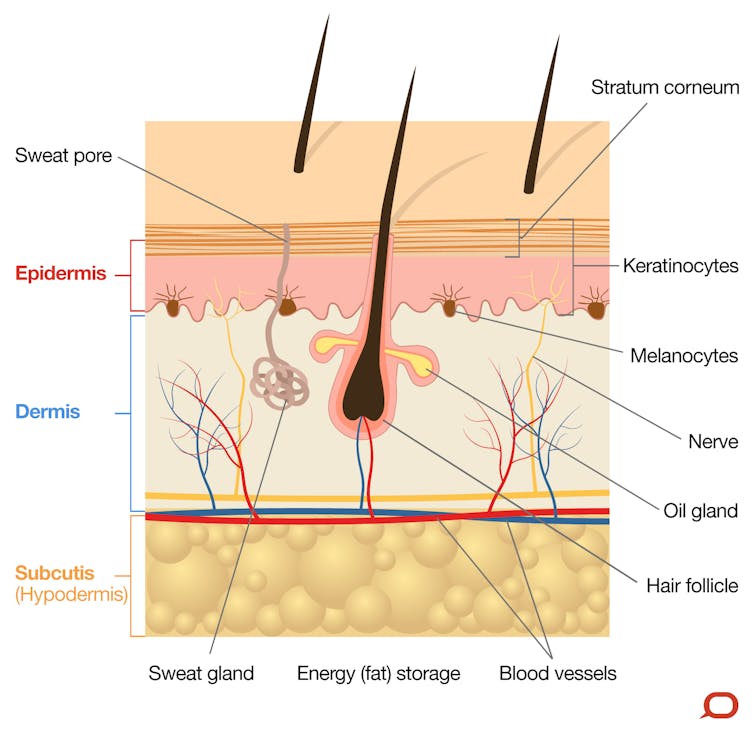 Authors: Cara McDonald, Consultant Dermatologist, St Vincent's Hospital Melbourne
Read more http://theconversation.com/the-skin-is-a-very-important-and-our-largest-organ-what-does-it-do-91515