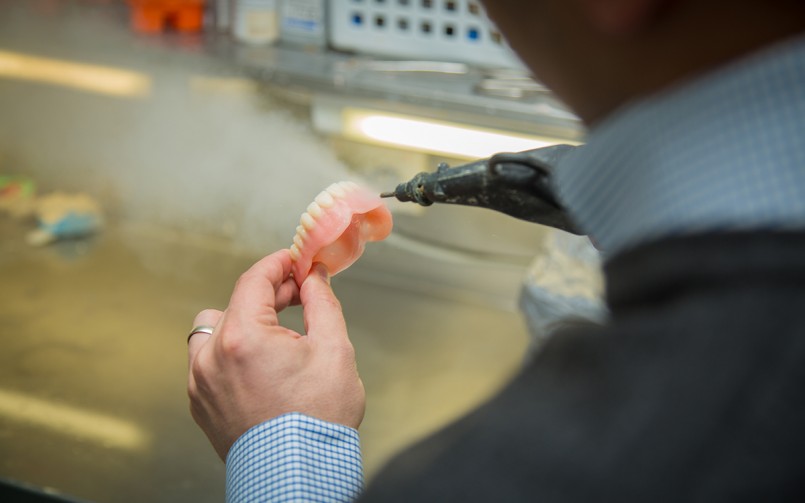 If you're missing a few teeth, you might be looking at the options available to you. There's no doubt you want a solution that's affordable while providing you with comfort and confidence, but which denture solution is right for you?
Implant supported dentures may be your answer. They're surprisingly affordable while offering benefits that traditional dentures simply can't match.
What are implant supported dentures?
Implant supported dentures are a dental solution in which a false tooth, or false teeth, are secured in place by an implant in the jawbone. The implants for dentures ensure that the new tooth is secure and supported to provide you with more comfort and freedom.
The benefits of implant supported dentures
Because of their strength and performance, implant supported dentures offer a variety of benefits that improve your confidence and wellbeing.
Stability
Because of the implants for dentures, these tend to be more stable than traditional solutions. With more stability comes less worry that your denture might come loose or slip out of your mouth. Not only will you have more confidence while wearing your dentures, but they'll also feel more natural. Unlike regular dentures, implant supported dentures don't rely on suction from the roof of your mouth, which makes wearing these dentures a more natural experience.
Comfort
Implants for dentures deliver you more comfort than traditional solutions. Instead of sitting on top of your gums, which can be irritating, implant supported dentures are secured into place, which means there's less risk of slipping or rubbing. They also encourage bone growth by exercising the underlying bone.
Fewer restrictions
Implant supported dentures may give you the opportunity to eat foods you haven't been able to eat while wearing traditional dentures. Because implant supported dentures don't cover the roof of your mouth, you'll also have an easier time tasting your food. While it's still important to avoid foods that could damage your dentures, you'll have more freedom to eat as you please.
Easier speaking
The structure of traditional dentures can get in the way of your speech. With implant supported dentures, you'll have the confidence to speak clearly and comfortably. The implants for dentures prevent slips and slides so you can talk with ease.
What is the process?
Implant supported dentures require two rounds of surgery, as well as a few trips to the dentist to ensure the most comfort possible. During the first procedure, the surgeon will make an incision in the gum, drill a hole into the jawbone and position the implant in the hole. When this is complete, the hole will be closed while you heal and the implants fuse with the bone. This can take up to six months, during which your surgeon will craft a temporary denture for you to use while your implants fuse.
After your implants have fused to the bone, a second surgery will take place. This procedure will expose the top of your implants so that a healing cap can be placed around each one. The healing caps ensure that the gum tissue heals properly.
When your surgeon is happy with the healing of your implants, they'll take an impression of your gums that will be used to make a model of your jaw. This model will then be used to custom-make your new dentures.
Though the process may seem demanding, you'll find yourself with increased comfort and confidence in addition to a smile you love.
How Aesthetic Dentures can help
Aesthetic Dentures wants to make sure your implant dentures are as comfortable as possible and you walk away with a beautiful smile. Our team of specialists will offer you the highest quality of care and give you peace of mind. Each member of our dental implant team is trained to provide trustworthy and safe implants.
We also pride ourselves on only using materials that are manufactured in Australia. Choosing Australian-made products allows us to uphold strict Australian safety standards.
If you're interested in implant supported dentures, Aesthetic Dentures will provide a professional consultation with a friendly denture specialist who can help you make the best choice. We'll keep you informed through the entire process and answer any questions you might have.
If you would like to learn more about implant supported dentures, contact Aesthetic Dentures.