Things to Do and See in Ballina, Australia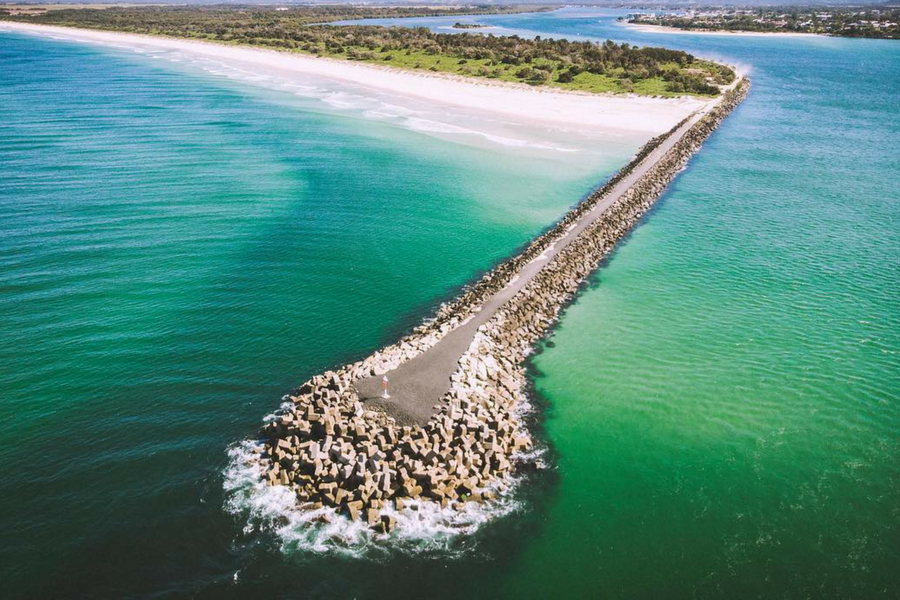 The intricate coastline of New South Wales is renowned for its sumptuous, decadent beaches, hidden resorts and secret camping spots. A long and slow ride down the winding highway that twirls around the coastline will leave you spoiled for choice as it becomes harder and harder to decide which spot is better. Still, if you are in the mood for a tranquil and relaxing getaway, you should definitely head further north, towards the beaches of Ballina Shire. This small and seemingly modest patch of land is a superb spot for both loner travelers and family groups where they can unwind and blow off some steam. If you have never visited or indeed never heard of this region (which is pretty likely), here are some interesting things to do and see in Ballina, Australia.


Where is it?
Ballina is located south of Byron Bay and the Northern Rivers in general, about nine hours north of Sydney via car. As you drive along the famous Pacific Highway you will come across a bridge over a modest Emigrant Creek. This is a natural border that marks the beginning of Ballina Shire and, almost immediately, you will come across a gulf center and a Jehovah's Witnesses church on the right, in short succession. This is not your cut and dry tourist spot with dazzling signs, big buildings or gigantic resorts that catch the eye. As a matter of fact, Ballina appears to be an innocuous town surrounded by bucolic scenery. These are actually its best selling points as the town of West Ballina (which is the first urban cluster you will come across) offers pretty much everything a weary traveler needs to rest and enjoy some fun times at the beach.


Camp out
Ballina is also home to a beach village which offers an impeccable camping ground for all sorts of visitors – from big, cross-generational families to solo travelers that are driving across the continent to get away from their workplace woes. The idyllic Seabreeze caravan park is an excellent choice for people looking for accommodation in Ballina. It can serve as a central hub from which you can explore the beach and take part in numerous aquatic activities, plus it is pet friendly. If you are here with your family, you should know that this corner of the New South Wales is practically tailor-made for you – it is quite safe to let your kids roam around and partake in a number of camp-related activities and games. The mark is located on South Ballina, near the confluence of the Richmond River and the North Creek that blend into the Pacific Ocean. The nearby stretch of coastline is also perfect for morning jogging, especially because the sun that rises over the Pacific looks so enchanting and it is something that shouldn't be missed during your stay.


Eat locally
As a charming collection of Australian streets, Ballina has that signature, tasteful kitchen full of meals that are made with care and love. For all intents and purposes, eating locally is a part of the tourist attraction. River Street is like a local food Mecca that offers numerous choices to wine and dine, and if you are a fan of "diner menus", you will literally be in heaven – burgers, fish and chips, freshly squeezed juices, coffee and bakery goods are part of Ballina's hospital identity. Moreover, considering that the location is not particularly overhyped, the price range of food is really reasonable.


Enjoy the curiosities
Even though the town is mostly about relaxing and enjoying oneself with a family, there are also several interesting landmarks you can inspect and things you can do. The Big Prawn is an eye-catching curiosity that piques the interest of many newcomers. It is essentially a 6 meter high model of a prawn, right next to the Bunnings Warehouse car park. If you are in the mood for shopping, you can head to the Ballina Fair Shopping Centre and treat yourself with a night at the movies afterwards – in Ballina Fair Cinemas and take a gander at Fenwick House, the famed local historical landmark.
Of course, if you want to mix things up a bit and go for a hike in the local woods, head north and, right beyond the Ballina Byron Gateway Airport, you will come across the sizeable hinterland that stretches all the way to the neighboring town of Lennox Head. It is a good place to get away from civilization and yet you can hardly get lost in it. When it comes to beaches, you can visit the local Shelley and Angels beach, which are both popular among locals, but Angels is a smarter choice for those of you who want to get isolated from other people. Still, you should know that it also does not have lifeguard patrols, so beware.
Ballina is a modest place that still has everything a globe-trotting traveler needs for a casual, relaxing vacation. One of the best aspects of "hanging out" in this town lies in the fact that it is not as overhyped as, for example, Byron Bay or many other New South Wales beachside resort destinations. Even though it is truly mesmerizing to visit iconic landmarks and mingle among the diverse populace that courses through renowned cities and destinations, every now and then one craves for a bit of "me" time and looks for a relaxing, hidden hotspot to truly reinvigorate the spirit and rediscover inner wells of energy. Ballina is one of those places, and it is well worth the trip.