Hong Leong Bank's New Data Center Receives Highest Green Certification in Malaysia from GCI
The Data Centre is the first in Malaysia to be certified as a Titanium+ Tier facility by Green Climate Initiative (GCI), a testament to the Bank's commitment to addressing climate change and the transition to a green, low carbon and climate-resilient economy
KUALA LUMPUR, MALAYSIA -
Media OutReach
- 13 March 2023 -
Hong Leong Bank's
("HLB" or "the Bank") new data center has received a Titanium+ Tier nod from the
Green Climate Initiative ("GCI"),
an industry-leading green technology accreditation organisation. With this accreditation, the Bank's data center is officially a
Certified Green Computing Facility
and the only facility in Malaysia to achieve the prestigious Titanium+ ranking by scoring a near-perfect 99 out of 100 points in the Certified Green Computing Facility ("CGCF") Weighted Scorecard.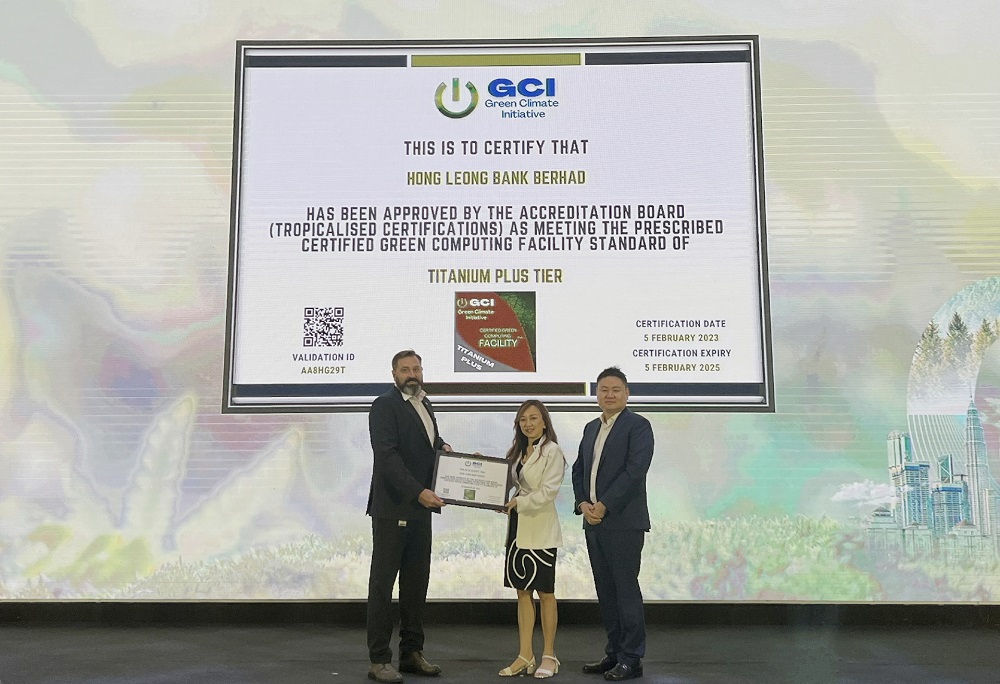 This accreditation, which was presented at the
Huawei Malaysia Digital Power Summit 2023
, comes as the Bank continues to execute its strategic ESG initiatives, working towards its goal of being carbon neutral by 2050. In recent years, the Bank has gradually embedded ESG considerations throughout its business operations by implementing sustainability and environmental frameworks as part of its business strategy. The Bank's new data center, which uses open-source, latest data governance architecture to enable real-time data processing, data mining, and in-depth analysis, was developed in line with the Bank's overall ESG framework.
According to
Domenic Fuda, Group Managing Director and CEO of HLB
, climate change will remain the most profound generational challenge which the world faces today as well as a key emerging risk for financial institutions over the next few years, given the increased regulation, demands for transparency and the need for whole ecosystems to embrace the need for action now so that future impacts of climate change can be appropriately and effectively managed.
"We take both a short-term, as well as, a long-term view when it comes to addressing climate change by being steadfast in incorporating sustainability actions and policies into our daily operations and strategic initiatives. These initiatives and actions throughout our business are designed to create a positive impact across our customers, community and the environment, whether it's in business enablers like a data center or through our products and services that customers use. This certification from GCI is a testament to our commitment to putting sustainability at the core of our operations. We are proud to have the first Titanium+ tiered data facility in Malaysia," said Fuda.
Operationally, HLB has set the target of reducing greenhouse gas emissions by 15% to 25% by 2026, achieving net zero Scope 1 and 2 by 2030 and being carbon neutral by 2050. Some key initiatives that are aligned with these ESG commitments include:
Business and Corporate Banking Credit Policy and ESG Assessment Framework which takes an inclusionary approach to transition customers in high-risk sectors to adopt lower-carbon economic activities.
Developer End Financing Framework encourages property developers to adopt greener practices as those with green certifications for their development projects will be classified with low ESG risk profiles.
Regional Wealth Management ESG Framework guides the creation of responsible wealth management products with integrated ESG considerations.
Procurement Policy assesses the level of ESG adoption for its vendors across the entire value chain through the Bank's Vendor Sustainability Self-Assessment.
Environmental Policy on Energy, Water and Waste Management monitors electricity and water consumption as well as manages waste and recycling measures. Accordingly, HLB has introduced bank-wide Energy Efficiency & Conservation (EE&C) initiatives to upgrade and retrofit its operational facilities.
Ceased financing of any greenfield coal-fired power plants beginning 1st July 2021 and new financing of all coal-fired power plants effective 1st July 2026.
Forest rehabilitation and conservation practices via its 15-hectare mangrove rehabilitation project in Kuala Selangor Nature Park, having so far planted over 40,000 trees, to offset carbon emissions, prevent soil erosion and assist the fishing ecosystem to help fishermen's livelihoods and the HLB Earth Hero initiative which nurtures an environmentally responsible younger generation, whilst replanting trees in a forest in Sabah.
HLB's new Data Centre is powered by Huawei Module Data Center which delivers simple and flexible deployment and expansion and most importantly, a self-optimisation system that reduces energy consumption and carbon footprint. For the successful deployment and attaining Malaysia's first Titanium+ certification from GCI, Huawei also presented the Bank with the "Excellence Customer of Module Data Center" award under the Deployment in Finance Category 2022.
Vice President of Digital Power Business Group of Huawei Malaysia, Chong Chern Peng
said, "We are grateful that our customer Hong Leong Bank has received this certification and recognition for Huawei's Data Center Facility. In the pursuit of Next-Generation Data Centers, technological innovation will be a key force in ensuring sustainable development. Looking towards the future, Huawei will keep making breakthroughs in products and technologies through continuous investments in R&D and through extensive cooperation with customers, ecosystem partners, and industry organisations. Together, we can jointly usher in a new era of data center development".
Hashtag: #HongLeongBank
The issuer is solely responsible for the content of this announcement.
About Hong Leong Bank Berhad
Please visit www.hlb.com.my