VinFuture Foundation Launches Science and Technology Webinar Series "InnovaTalk 2023"
HANOI, VIETNAM - Media OutReach - 15 March 2023 - The VinFuture Foundation has officially launched the InnovaTalk 2023 webinar series, covering highly applied fields such as agriculture, health, smart transportation, and emerging technological trends.
The webinars will be held regularly from March to November.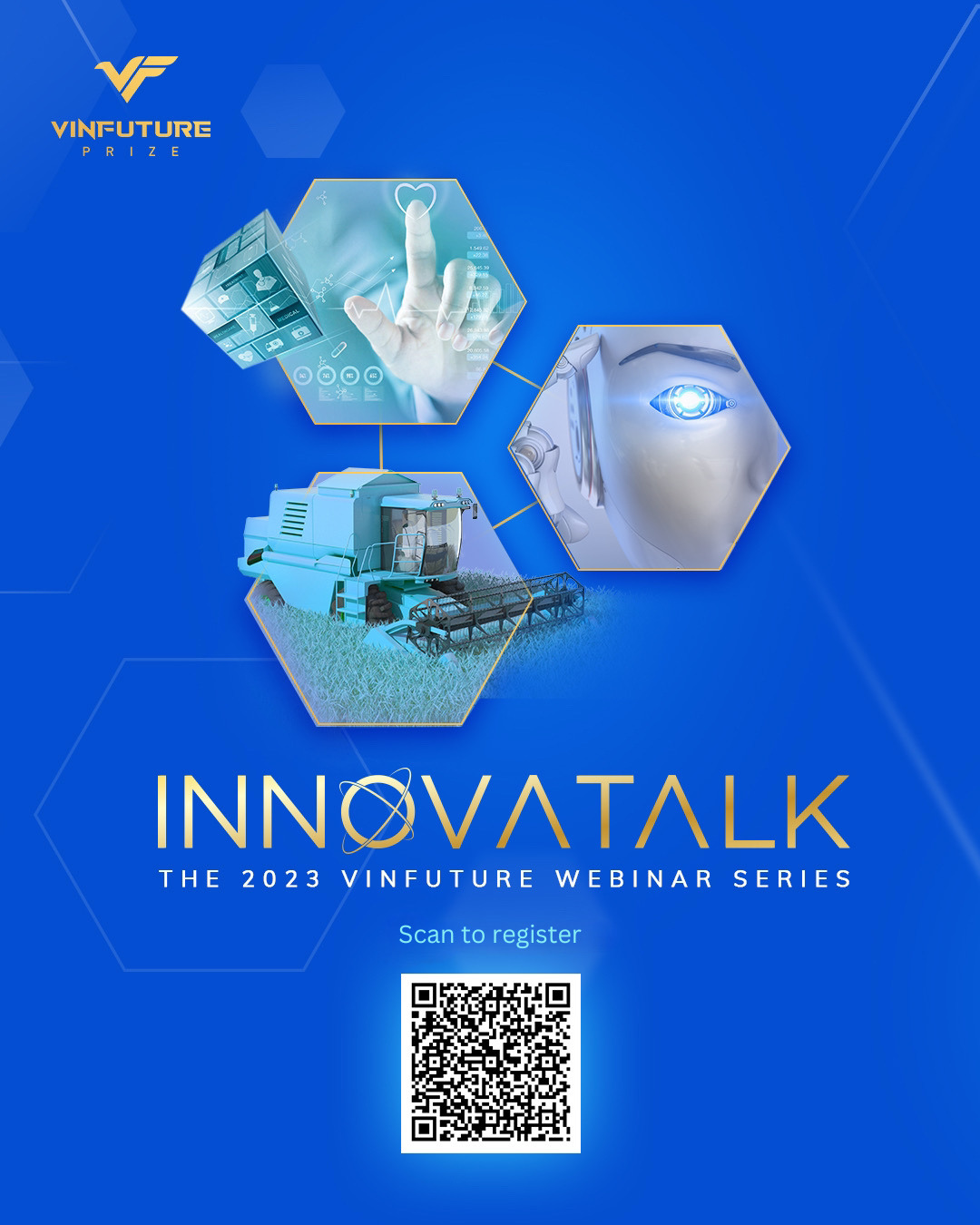 The VinFuture Foundation is organizing the InnovaTalk webinar series to connect outstanding minds to domestic and global scientists and enterprises. Each InnovaTalk webinar will be chaired by a member of the VinFuture Prize Council or Pre-screening Committee, or by a world-renowned leading expert in the field of science and technology. The webinars will also feature discussions presented by distinguished guest speakers from well-known worldwide academic institutions including universities and research organizations, as well the participation of leading experts from academia and enterprises from Vietnam.
Through these webinars, the VinFuture Foundation hopes to elevate the importance of various fields of science and technology, as well as evaluate the practicality and potential of applying such technology in Vietnam. At the same time, the Foundation also seeks to encourage and promote the contribution and role of Vietnamese scientists in the global innovation chain.
"The InnovaTalk webinar series had an incredible response, with approximately 200 researchers and experts attending each webinar last year. As a bridge of knowledge, we are now increasing the number of webinars for this year. Our goal is to bring together the world's leading minds in science and technology, providing those who are passionate about science with the opportunity to interact with global experts and learn about today's most pressing topics and emerging trends," said Dr. Thai-Ha Le, Managing Director of the VinFuture Prize.
The first InnovaTalk webinar in 2023 will take place on March 29 from 1:00 - 2:00 P.M. (Vietnam time GMT+7) and will be chaired by Professor Josse De Baerdemaeker – former President of the European Society of Agricultural Engineers (EurAgEng) – who was a keynote speaker at the Science for Life Symposium "Resilient Agriculture in the New Normal" during the 2022 VinFuture Sci-Tech Week.
The webinar also features a presentation on "Harvest Planning with Spectral Sensors in the Orchard" by Professor Wouter Saeys of KU Leuven (Belgium). KU Leuven, which was ranked by Thomson Reuters as the most innovative university in Europe, is a leader in cutting-edge research. Professor Saeys is a principal author and co-author of over 200 peer-reviewed articles.
To watch the speakers' presentations, as well as participate in discussions and interactions in the first seminar on "Smart Agriculture - Post-Harvest Technology", interested audiences can register to join the workshop at the following link:
https://forms.office.com/r/D8L4LB6hsa
List of topics in the InnovaTalk webinar series in 2023:
March: Smart Agriculture - Post-Harvest Technology
May: AI & Machine Learning
June: Carbon Storage Solution to Climate Change
July: Gut Microbiome and Immune System
August: Plastic Waste Recycling Technology
September: Smart Cities & Transportation
October: Smart Materials to Sustainable and Green World
November: Biosensors & Medical Devices
Hashtag: #VinFuture #Vingroup
The issuer is solely responsible for the content of this announcement.
About VinFuture Foundation
The VinFuture Foundation, established on International Solidarity Day on December 20th, 2020, is a non-profit organization co-founded by billionaire Mr. Pham Nhat Vuong and his wife, Mrs. Pham Thu Huong. The Foundation's core activity is awarding the annual VinFuture Prize for transformational scientific and technological innovations that have created or have the potential to create meaningful changes in millions of people's lives across the planet. A total of four prizes are awarded by the VinFuture Prize every year, consisting of the VinFuture Grand Prize valued at US$3 million – one of the largest ever annual prizes globally. There are also three Special Prizes, each valued at US$500,000, dedicated to female innovators, developing country innovators, and innovators with outstanding achievements in emerging fields. In addition, the Foundation conducts many activities to accomplish its mission, such as engaging in strategic grantmaking activities, catalyzing intellectual connections, and collaborating in Sci-Tech development.