The best St Patrick's day events in Australia 2019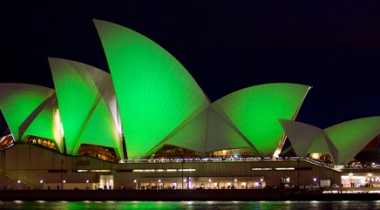 St Patrick's Day is one of the most exciting celebrations in Australia, mostly thanks to the around a third of the nation's population boasting colourful Irish heritage. From Perth to Sydney, here are the top spots to don your green, enjoy the craic (Irish for fun) and celebrate St Patrick's Day in 2019.
St Patrick's day in Melbourne
1. St Patrick's Day Festival, St Kilda - 17th March
St Kilda is hosting its very first St Patrick's Day festival in the O'Donnell Gardens this year. From Irish dancing to music, food and activities, this over 18's event will keep you partying like the Irish from 2pm-9pm. If you want to bring your kids along, the festival is family friendly from 10am-1pm.
2. P.J.O'Brien's, Southbank, St. Patrick's Day Breakfast - 17th March
If you want to start your green party early, this huge Irish Pub in Melbourne's Southbank guarantees the craic from early morning. For just $30 pp, enjoy a full Irish Breakfast from 8am, plus a pint of Guiness or glass of house wine and all the Irish music, Irish dance performances and good times you could ask for. The day can get rowdy, so if you're bringing kids, head in early and make use of the Kids Menu: Just $15pp including a soft drink.
St Patrick's Day in Sydney
1. Sydney's Green Quarter - 17th March
After huge success last year, Sydney's Entertainment Quarter in Moore Park will transform into The Green Quarter again this St Patrick's Day. Marching bands, fans in fancy dress and Irish Dancers enhance the emerald isle parade, while the stalls filled with Irish beverages and delicious Irish food like soda bread will keep you hydrated and full.
The kids can stay busy with face painting, craft stalls, storytelling, Irish dance lessons and sack races. If you thought there might be a traditional egg and spoon race, think again! The Irish-themed event offers a spud and spoon race instead.
Handy tip for parents: The venue provides umbrellas, sunscreen and water.
2. St Paddy's Breakfast at The Merc - 17th March
St Patrick's day craic starts early at Sydney's oldest Irish Pub, so get in at 7am to secure your seat. For $80 pp, you'll get an entire morning of Irish love and laughter including a full Irish breakfast, coffee, and three hours of beverages.
Thanks to its reputation, The Merc attracts some of the city's best Irish musicians as well as the city's best Irish dancers to keep you entertained. If you've somehow managed to make it to the evening, you'll love the food and bar stalls that pop up around the pub, as well as fantastic musical acts.
St Patrick's day in Brisbane
1. Brisbane St Patricks' Day Parade 2019 - 16th March
Brisbane's St Patrick's Day Parade is back in full force this year! After attracting a crowd of 30,000 last year, the streets will be filled once again with the green-hued parade as Irish Dancers, bands and at least 80 floats parade down the streets. The parade starts and finishes outside the Botanic Gardens on Alice Street.
If one day of green-themed craic isn't enough, make your St Patrick's day a week-long affair in Brisbane. The St Patrick's Day Parade Association Inc. is hosting a 7-day Brisbane Irish Festival, centring around the parade.
St Patricks' Day in Perth
1. St Patrick's Day Parade and Family Fun Day - 16th March
Leederville's St Patrick's Day WA Parade and Family Fun Day is back again this year. The parade starts at 10am from Newcastle Street, moves along Oxford Street, then heads up Vincent Street finishing at Leederville Oval. The oval hosts the beloved Family Fun Day with activities, food stalls, pets and designer dog beds, live entertainment and of course, a huge bar where Guinness will flow.
St Patrick's Day is symbolic for some Australians thanks to their Irish heritage, but mostly it's a great excuse to party and wear all the green clothes you possess. Don't miss these incredible venues for the best St Patrick's Day events in Australia this year.