Winter Skin Care: How to Prevent Dry Skin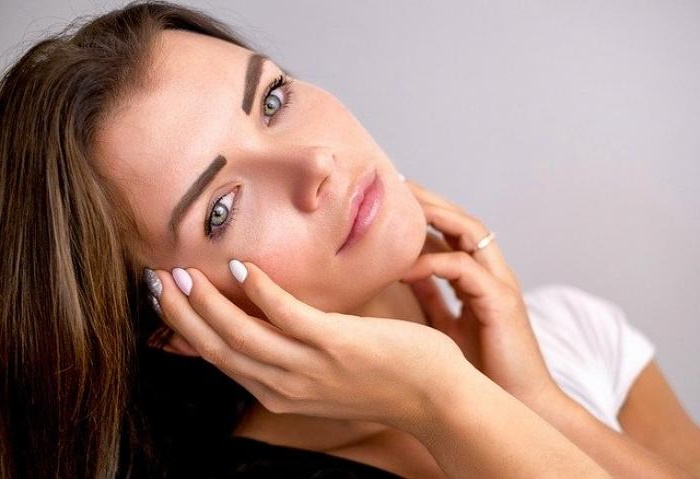 A beautiful and fresh appearance is the goal of all of us. Our self-confidence skyrockets when we feel pretty, and the world is ours. That's why we invest so much money in new clothes, colorful make-up, and fragrant perfumes. However, the biggest secret to retaining a fresh and young look is proper skincare, as it is exactly on the skin where the most visible signs of aging and damage appear.
You should especially take care of your skin in the wintertime, as your skin is sensitive to the weather changes. With the dry climate, chilly wind, and indoor heat, your skin may become dehydrated, which is never a good look.
If you notice that your face is itching, has a harsh texture and an overall dullness to it, it's a signal that you should upgrade your skincare routine. You should make sure to use a good moisturizer, wash your face with lukewarm water, avoid harsh cleaners, and exfoliate. Moreover, you could increase the humidity in your home and increase the healthy fats in your diet. Check out our tips for effective winter skincare.


Choose the Right Moisturizer
Moisturizing your skin is crucial in the winter. You should preferably use a rich and creamy moisturizer, which will help your skin retain its moisture. In addition, you should also use a regular cream cleanser, a night cream, and an eye cream.
It's important to remember to use the right kind of products for your skin type. For example, if your skin is oily, you should look for non-greasy, lightweight, and oil-free moisturizers. On the other hand, if your skin is dry, you should look for moisturizers with a richer texture. If you have sensitive skin, the best option is a hypoallergenic moisturizer.
Furthermore, you should also pay attention to your lips, as winter weather can be especially brutal on them. Make sure you always have a thick lip balm at hand to prevent your lips from becoming cracked, sore, dry and chapped. Coconut oil, shea butter, hemp seed oil, vitamin E, and honey are the most common ingredients you should look for in a lip balm. For example, you can find CBD-infused lip balms among Lake Country Growers CBD products.


Wash Your Face Gently
Ideally, you should wash your face twice a day but keep in mind that washing your face with cold water will make your skin more prone to damage. The morning routine should be quick and gentle, while the evening routine should be more thorough. You should avoid using harsh detergents or soaps when washing your face, especially if you have sensitive skin. Instead of that, you should opt for mild products that won't irritate your skin and leave it looking fresh and radiant.
Make sure to choose a gentle cleanser that will not dry out your skin or leave behind any residue on your face. Get rid of makeup residue by using a makeup remover or toner before washing your face. Then, rinse your face with lukewarm and pat it gently. Apply a gentle cleanser to your face and massage it in circular motions while avoiding the eye area. Wash your face thoroughly with lukewarm water and gently pat it dry one more time.


Exfoliate Your Face Regularly
Exfoliating your face is one of the most critical steps when it comes to maintaining healthy skin. When we sleep at night and during the day, our face accumulates dead skin cells and impurities on its surface, resulting in clogged pores. This can lead to blackheads and acne flare-ups.
Exfoliated skin will make you look brighter, fresher, and more awake. For best results, exfoliate your skin once or twice a week in the shower before washing your face with warm water. Choose an exfoliator with natural ingredients, such as sugar and coconut oil, for ultra-softening effects.


Use a Moisturizing Mask
You should consider using a moisturizing mask once or twice a week to replenish your skin's moisture. You could make one yourself with coconut oil or avocado, as these are particularly moisturizing ingredients, or you can purchase an inexpensive moisturizing mask from your local pharmacy.
Apply a thin layer of the mask on your face and leave it on for 10-15 minutes before rinsing it off. This simple trick will boost your skin's hydration and tone, leaving it looking healthy and vibrant.


Eat Healthy Fats
Healthy fats are another great way to keep your skin healthy due to their anti-inflammatory properties, ability to provide moisture and reduce skin roughness. If you don't have enough fat in your diet, you may become more prone to dryness and flakiness on your face.
Omega-3 fatty acids such as those found in the best foods for healthy skin like salmon and flax seeds are highly recommended for an overall healthy skin appearance, however vitamin E can also be beneficial. You could also consider taking a fish oil supplement for added benefit!


Increase the Humidity Inside Your Home
Keeping the humidity level inside your home at a higher than average level can help you prevent dry skin. A humidifier is a great way to add moisture to the air inside your home, which will help you to prevent dry skin. A humidifier can be placed anywhere in your home, providing a safe way to relieve dryness while reducing pain in the joints during cold winters. Ideally, you should use a humidifier when you sleep, as this will help your skin retain all its moisture overnight.


Conclusion
Dry skin can be a pain not only for your appearance but also for your health. If you notice that your skin is feeling dry and itchy, you should make sure to upgrade your skincare routine. With the right products, gentle cleanser, and daily moisturizing routine, you'll be able to keep your skin looking healthy in the wintertime.
However, before purchasing any skincare products, remember always to check if they are suitable for your skin type. This way, you will not only achieve better results but will also avoid wasting money on beauty products that don't work for you altogether.