Bikinis That Suit Your Body Shape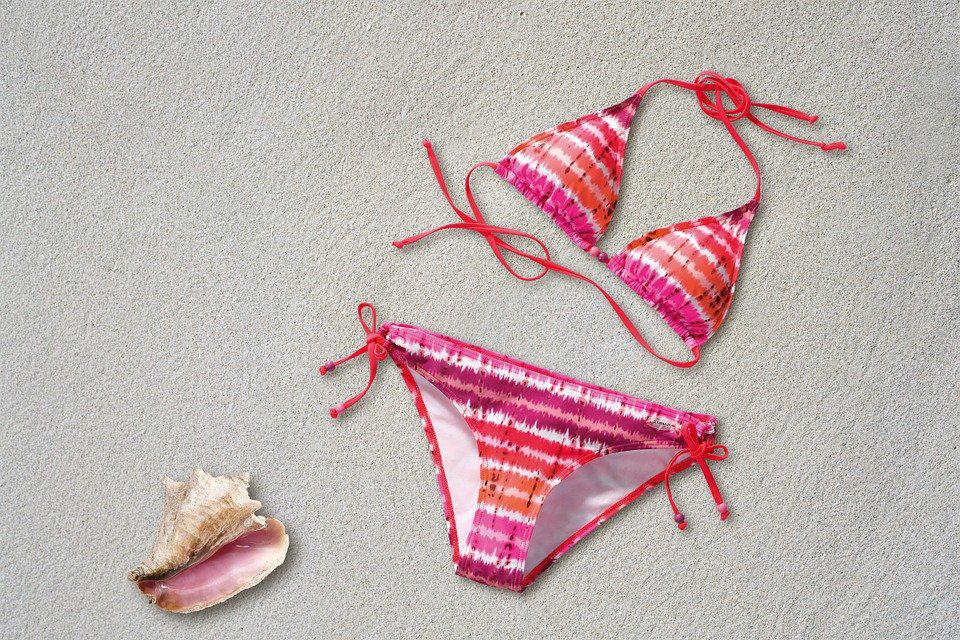 Usually, women are very conscious when it comes to choosing bikinis. Some shy away from flashing their skin; others cannot resist flaunting their beach body, while some fail to get the desired look even after months of diet and workouts.
You might have come across your friend striking a bandeau top bikini, but sadly, it cannot look the same on you. After all, everyone has a different body shape. Thus, considering your body type while getting your hands on a bikini remains all-time crucial. Although some brands are offering bikinis for every body shape, it still does not exhibit perfection.
Have you found the perfect bikini for your body shape yet? If not, here is your guide to bikinis that suit your body shape.

Padded Tops
Bikinis are available in numerous designs and styles to accommodate every body shape and size. So, for women with 'rectangular body shape' need to give a shot to padded bikinis. Usually, these are super skinny women who struggle in flaunting some curves. If you also have a small upper and lower body, consider getting your hands-on padded bikinis.
Padded tops and bottoms can help in emphasizing your shape while flashing your sleek legs and arms. Besides, opt for some fancy ones with prints or patterns to turn eyes at you. Also, choosing the right neckline is super important. You can settle upon anything except for square necklines because they are not the perfect fit for rectangular body shapes.

Halter Bikini Tops & Tie-Side Bottoms
Halter bikini tops are the talk of the town. Women are going crazy over these due to their versatile designs and styles. However, you cannot make a style statement in these until you have an 'hourglass body shape'. Usually, it is considered to be the ideal body type because the bust and hip measurements are the same. Still, not every bikini is a perfect fit for this body type.
Halter bikinis have a triangle shape with thick straps going around the neck, providing sufficient support to fuller busts. Besides, these are super comfortable too. Feel free to pair them up with the same colored tops or play with colors to make some style statements. For bottoms, there is nothing better than tie-side ones for an hourglass body shape.

Bandeau Tops
Bandeau tops are becoming popular every passing day, and you can pull it off easily with a 'pear body shape'. These are the women with heavier lower body compared to the upper body. Thus, these bandeau tops can help in maintaining a suitable balance.
Bandeau tops are strapless ones, allowing you to flash your collarbones selflessly. You can opt for printed ones with some strips and patterns. These are also available in many solid colors since you can never go wrong with blacks and whites.
Boy shorts are a big 'NO' with these tops since you would end up making a fashion disaster wearing these along. Also, boy shorts are not the ideal fit for the pear-shaped body too. You can look for high waisted or high-cut bottoms that would complement your legs, adding oomph to your entire look.

Tankinis
Mostly women with a 'pear-shaped body' refuse to display heaps of skin. Well, one cannot force someone into it, instead, how about we unmask some other options? Tankinis can come to rescue women who like covering up a bit. These are tank tops with traditional bikini bottoms, making them an ideal fit for the beach.
Coming to the designs, you can find various styles, from simple drapes, V-necklines, and knots style. Tankinis are popular for gorgeous prints and striking necklines. So, without any second thoughts, start hunting for the perfect one.
Also, it is for women with bulky tummies who feel shy wearing bikinis. These tankinis provide full coverage for the upper body, hiding all your insecurities. If you want to go a little extra, then do not mind getting your hands on the one with drapes. It would have knots at your back and neck, leaving it uncovered from behind.

Frill Tops
Well, the women with 'rectangular-shaped body' are not just hampered to padded tops; instead, they can also opt for frill tops. These are specifically designed for women with small busts and hips because it enhances figure with unique cuts and frill styles. Besides, frills are the latest wrinkle in the fashion industry. So, how about you flaunt bikini with frills?
Pick up brighter prints with embellishments and low necklines. Also, step aside from solid colors since they are not the ideal choice for rectangular body shape. For bottoms, stick to the traditional ones to flash your super skinny legs because not everyone has them. If you want to go a little extra, then pick up the bottoms with frills too.

High-Neck Tops with Skirts
Some of you might work out the entire year to accomplish the goal of a perfect beach body. Well, not everyone comes across overwhelming results, but that does not mean curvy women cannot flaunt their figure. High neck tops are a savior for 'plus-size' women, allowing them to flaunt their curves carelessly. Apart from being in trend, these tops provide slightly more coverage than the traditional bikinis.
Also, rather than opting for floral prints and solid colors, just stick to vertical stripes. These can make anyone look slimmer. For bottoms, you can stick to the traditional ones, or opt for skirts if you don't feel comfortable flashing your legs. Of course, it is quite tough to find a skirt with vertical stripes. Thus, feel free to get anything that goes well along with the top.

Button-Down Bikinis
People are still drooling over the trend of button-down shirts, while button-down bikinis have also taken the fashion industry by a storm. Women cannot refrain from obsessing over these super chic bikini styles. Unfortunately, these are not the ideal fit for every woman since they complement 'hourglass body shape' only.
If you cannot stop yourself from flaunting these, look out for the neckline that goes with your body shape. Usually, it comes with thick straps and a square neck with buttons on the front. For bottoms, you cannot just mix and match colors, since the bottoms also come with buttons.

Final Word
Choosing the perfect pair of bikinis is as important as being confident while wearing it. Surprisingly, many women feel uncomfortable because it is the best-looking bikini, but not the one which complements their body shape. Thus, the first step while heading over for bikini shopping is taking a dig at your body shape. Have a look above to see bikinis that suit your body shape.