Nutri-Grain is launching 'Gold Honey Crunch', a limited-edition flavour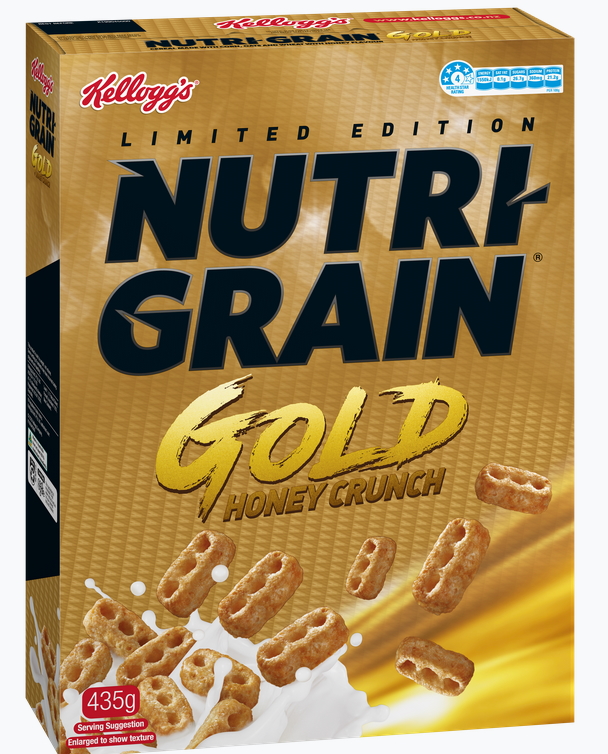 For the first time in five years, the classic malty taste of Nutri-Grain® is getting a new twist. Nutri-Grain is launching 'Gold Honey Crunch', a limited-edition flavour sure to delight fans with the delicious taste of honey.
It's not often Nutri-Grain releases a limited-edition variety of the iconic pantry staple but, after five years, the brand has stepped up to the challenge with this latest release. 
Blended together with golden honey, corn, oats and wheat, the new 'Gold Honey Crunch' is set to be an irresistibly tasty breakfast served with cold milk and packing the famous Nutri-Grain crunch.
Hitting the cereal aisle in Coles supermarkets from April 27 for 4 weeks only, it will be sure to satisfy taste buds while feeding young Aussies on busy mornings, thanks to the limited-edition 1.2kg value pack.
Dan Bitti, Nutri-Grain Portfolio Manager, said, "For decades Aussies of all ages have loved Nutri-Grain as part of their breakfast. With Nutri-Grain being such an iconic brand, we wanted to give the fans something new, with a delicious flavour that would not leave them disappointed. 
"Just like the original, Limited Edition Nutri-Grain Gold Honey Crunch delivers the unstoppable crunch and taste people know and love, while still having more than 20% protein."
Available for a limited time only, the Nutri-Grain Gold Honey Crunch 1.2kg value pack currently features eight-time BMX World Champion and unstoppable brand ambassador Caroline Buchanan, who thrives on the limited-edition flavour. 
What: Limited-edition 1.2kg Nutri-Grain Gold Honey Crunch 
When: From April 27 for 4 weeks only
Where: Coles supermarkets across Australia for RRP $11.00