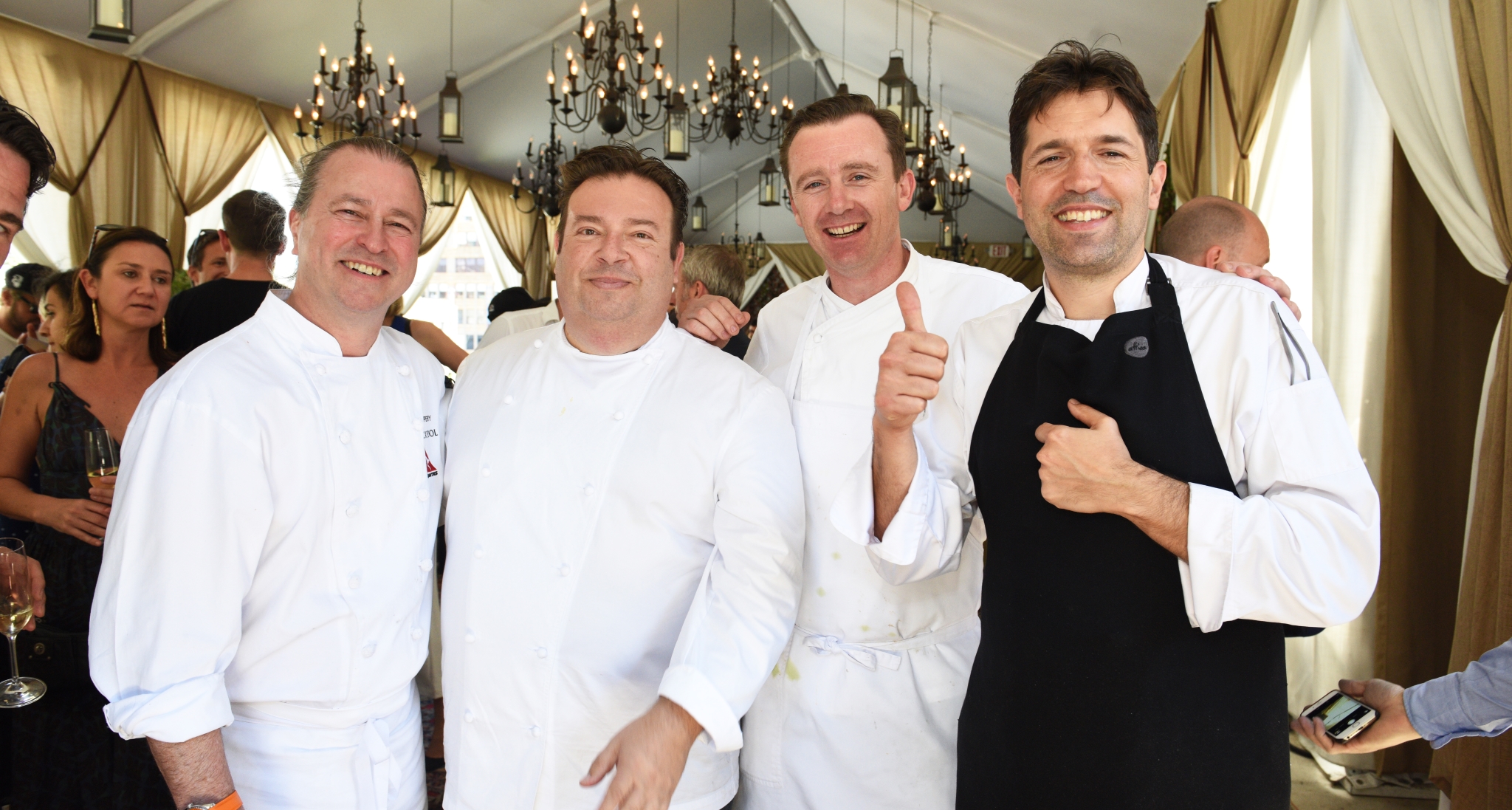 To celebrate Australia's hosting of the 2017 edition of the World's 50 Best Restaurant awards, Tourism Australia flew four of the country's top chefs to New York to provide a taste of what the world's finest chefs and food and wine media can expect when they come to Australia next year.
Ben Shewry, Dan Hunter, Neil Perry and Peter Gilmore created the ultimate Australian BBQ Brunch on the rooftop of the NoMad Hotel, for a who's who of international foodies, including Massimo Bottura (Osteria Francescana), Joan Roca (El Celler de can Roca), Daniel Humm and Will Guidara (Eleven Madison Park), Virgilio Martinez Veliz (Central), Mauro Colagreco (Mirazur), Yashihiro Narisawa (Narisawa), Vladimir Mukhin (White Rabbit), Magnus Nilsson (Faviken), Dan Barber (Blue Hill at Stone Barns), Ashley Palmer Watts (Dinner by Heston Blumenthal) and Dave Pynt (Burnt Ends).
Ben Shewry of Melbourne's Attica served his own take on the Australian classic 'smashed avo on toast', as well as Paroo Kangaroo served as 'kangaroo on the bone' and a dish of emu served in its egg.
Dan Hunter, chef and owner of regional Victoria's Brae, served a series of small bites, including raw pea and lemon aspen tart, prawn, nasturtium and finger lime, and eggplant and salt grass lamb washed with sweet onion juice.
Rockpool Group's Neil Perry took custody of the barbecue for the event, grilling a selection of Australian seafood including Skull Island tiger prawns and Fraser Isle spanner crab.
Quay and Bennelong's Peter Gilmore presented Australian sea urchin in a dish of uni rice, fish maw and umami broth. Australia's world-class David Blackmore Wagyu took a starring role in his serving of raw beef, fermented rye and raw fungi. Peter's final dish was grilled pickled cucumber with native Australian pepper.
Wine Australia matched Australian wines to the dishes including Jansz Premium Cuvée (Tasmania), Pewsey Vale Riesling (Clare Valley, SA), Leeuwin Estate 'Art Series' Chardonnay (Margaret River, WA), Cirillo 'The Vincent' Grenache (Barossa Valley, SA) and Moorooduc Estate Pinot Noir (Mornington Peninsula, VIC).
Attica chef and owner Ben Shewry, ranked number 33 on the 2016 list, said it had been great to cook with close friends and colleagues, and for some of the world's most influential and respected chefs and food and wine media.
"I think we gave them a pretty good taste of what to expect when they come to Australia next year," he said.
Australia's Melbourne city was announced as the host destination for The World's 50 Best Restaurants 2017 at a special dinner for the world's best chefs and restaurateurs held in New York on the eve of this year's awards ceremony.
Tourism Australia Chief Marketing Officer, Lisa Ronson, said Australia's fast growing culinary reputation made it a perfect destination to host next year's awards.
"The World's 50 Best Restaurants awards and event program we plan to build around it is a natural extension of our Restaurant Australia campaign. Invite the World to Dinner in Tasmania in 2014 changed a lot of people's perceptions about the strength of Australia's food and wine offering and, as hosts for next year's World's 50 Best Restaurant awards, we have the perfect platform to build upon that work," she said.
Tourism Australia will work with William Reed Media, the organiser of The World's 50 Best Restaurants, to create a program of events alongside the awards that showcase Australia's food and wine offering in stunning locations across the country.            
"Melbourne will do a wonderful job of hosting the awards but we'll also be making sure we give this influential group of international chefs and media first-hand experience of the people, produce and places which make Australia's food and wine experiences truly world class," Ms Ronson added.
Tourism Australia will be working with Visit Victoria and Wine Australia to help host the awards and event program in Australia.
Wine Australia General Manager, Marketing, Stuart Barclay said collaborating with partners like Tourism Australia to build international awareness, understanding and appreciation for Australia's sophisticated food and wine culture is a core element of our strategy to position Australia as the world's preeminent fine wine producer.
"Today's event and our support of the World's 50 Best Restaurants awards and event program give us an incredible platform upon which to showcase Australia's regionally diverse, terroir-driven, premium wines for the world's most celebrated chefs and international media and influencers," he said.