Five things to take when traveling to New Zealand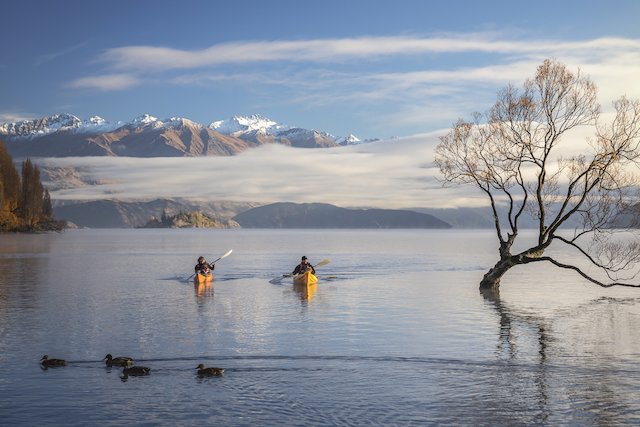 New Zealand is a sovereign island country located in the southwestern Pacific Ocean region. It is known to be a country of scenery, mountains, waterfalls, caves, beautiful lakes, golden-sanded beaches, and many more. The country has beautiful sights, magnificent beaches, incredible wildlife, and mouthwatering food. It is an ideal place to plan a vacation since the beauty of this country is mesmerizing enough to refresh one's mind. Following are a few things you need to do when planning a vacation:
Make a budget

Note down the spots who want to travel

Get a visa and passport

Make your bag pack
After reaching New Zealand, the first thing to need to do is buy a Newzealand Simcard as you might need one. After buying it, you can look for suitable accommodation and then start your traveling journey.
Places to Visit
Whakatane
This place is widespread, with 11km of white sand and an ideal place for family holidays. You can also explore the spectacular active volcano and white Islands.
Te Anau
It's a small town that has a gateway to the Fiordland National Park and offers plenty of nature in the vicinity. During your trip, you should also check out the glowworm caves and birds to see.
Invercargill
It is also a small town close to some fantastic destinations, including the coastal wilderness of the Catlins, Queenstown and Milford Sound.
Kaikoura
This place is located towards the seaside and known for its marine wildlife and fresh, local produce.
Waiheke Island
You can drink wine and explore the little shops. As well as see some of the beautiful scenery the island has to offer.
Wanaka
If you want to get free from the hustle and bustle of Queenstown, it is the best place.
Blenheim
It's known for being a wine hub, and there are over two dozen wineries in Blenheim.
Whitianga
This place is known for the famous sites like Cathedral Cove and Hot Water Beach.
Queenstown
This tourist place hosts mountains and is a bit of an adventure capital. Now comes the question of what are the things one should carry during his travel to New Zealand? So, in this article, we are going to tell you the most important "5 things to take when traveling to New Zealand."
Clothes
Clothes are an essential part of a bag pack. You should take along clothes according to the season and the places you are about to visit. If you are visiting New Zealand in summer that usually occurs from December to February, carry summer clothes along with you. Summer is the best season to visit this country.
 If you are visiting the country in any other season, carry the clothes accordingly. You can bring one pair of clothes a bit out of season as well like slight warm clothing in summer. It is advised that you get sick or catch a cold so you might need some warm clothing.
The selection of clothes should be according to the places you're about to visit. Like if you are going for an adventurous trip only, there is no need to carry long dresses and heels. So, do your clothes and shoes packing according to the places you are going to visit.
Camera
Pictures speak more than words, so keep a camera along with you. During traveling camera helps in capturing the lifetime memories in a frame. Try to buy a good quality camera along with an extra battery and charger. Keep a spare battery since at a lot of places, you won't be having proper facilities for charging your camera.
You can buy a waterproof cover for your camera, as a lot of traveling places in New Zealand have water. To protect your camera from any damage and to capture beautiful underwater shots, a waterproof cover is must to carry.
Projector
Taking a small projector along will be an excellent idea for making your vacations more entertaining. Projectors are portable devices. You can set up a projector anywhere. On the projector, you can watch movies or documentaries, which can make your vacation trip more entertaining.
Projectors are lightweight and easy to carry. They replace the monitor screens or television. Setting up a projector is an effortless task that requires only a few necessary steps.
Taking a projector can be risky as it is a sensitive device and can be broken. Projectors are expensive as well. When you are taking a projector along with you on your vacation trip, take extra care of it.
Keep it in a safe place during packing. Handle the luggage or bag carrying a protector and other expensive devices with extra care. Try to buy waterproof coverings for costly accessories.
Accessories
Here in accessories, we all include all the other devices and their parts like:
The extra charger of mobile phone

Extra power bank

Headphones

The waterproof covering of mobile

Laptop chargers
You can also keep things related to your trip activities like hiking, mountain climbing and swimming, which you think won't be readily available there. You can carry those things also which you feel will be costly to buy from New Zealand.
First aid and supplements
One of the most important things you should be carrying during all your travels is a first aid box. While traveling, the body faces significant climatic changes and due to which people suffer from minor illnesses like cold, fever, flu.
Adventurous trips have many dangers, like insects, animal bites, and injuries. To deal with such situations, an insect repelled spray, antiseptic solution, and some bandages should be available in your first aid box.
If you take any multivitamins or nutritional supplements, take them along. During traveling, it is difficult to find food of your choice so, to keep yourself safe from any nutritional deficiency, it is essential to keep your supplements as well.
Conclusion
Above were some of the most essential things which you should carry while traveling to New Zealand. In case you forget anything, the best thing you can do is to keep calm and enjoy your vacation.
Keeping yourself well organized is a good thing, but overstressing your self is never a good habit. The more you will learn to keep yourself calm in every situation, the more you can enjoy every vacation and moment of life.