How Best To Remove Bulky Household Items
Written by

NewsServices.com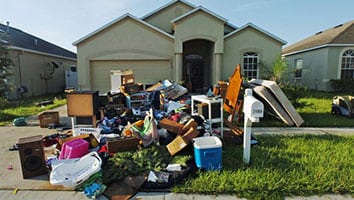 Bulky household items are typically difficult to deal with, especially during disposal. You will need enough time, effort, money, and the right tools to perform rubbish removal safely.
These unwanted wastes can get in your way and hamper your day. If you have loads of bulky household items, here are some best methods to remove them from your home.
Put Usable Items on Sale
Many homeowners simply want to remove bulky items to make way for new appliances or furniture. One of the best approaches to get rid of your large household things is to sell them.
Sort out those items that are functional and in good condition. You can sell them at local thrift shops or through a garage sale. However, you may need to haul, lift and load them yourself.
If you have all the means to move around bulky items, you can deal with them without any problem.
Council Dump 
Taking bulky items to a local tip or recycling centre is an affordable option you can undertake yourself. If you have enough time and the wheels to transport unwanted rubbish, you're good to go. 
But, remember that checking the types of items accepted in your local dump is essential. You wouldn't want to be told on your arrival at the facility that your waste materials are not allowed to be disposed of on their site.
It will be such a waste of time to sort, load and transport your bulky items only to find out that your local council dump doesn't take such things.
Most councils don't charge for the use of local tips. But to be sure, you should check if there are rubbish disposal fees in your area.
Once you decide to use your local council dump, ensure to know the processes and plan everything out to avoid delays. The results can be remarkably satisfying.
Local Council's Bulky Waste Collection
Each local government provides its residents with a waste collection service. Although they don't usually charge for the service, sometimes they impose a reasonable fee for the transport.
Your council bulky rubbish collection service is typically affordable and one of the best methods to get rid of unwanted large items. But one downside is that you have to wait for the scheduled pickup time in your area.
Response time can be slow, and you normally have to place your bulky items in front of your property a day before the pickup schedule. You can check with your council's waste collection team to see if they take the types of rubbish that you have.
If you have enough time to deal with your bulky household item, relying on your local council pickups will be a great option.
Recycling
Almost all bulky household items consist of wood, fibres, metal, or glass. If you're willing to undertake the job, you can dismantle them yourself and take them to your local recycling centre.
Although it's a demanding task, you can ensure that your bulky items are safely handled when you take them to the right facilities.
Hire a Skip Bin
A skip bin hire is one simple solution to eliminate bulky rubbish from your home. Once you have the container, you can fill it up while paying a fixed upfront price. 
It's one of the best options for removing heavy and messy waste materials. However, most skip bins are more expensive than other options mentioned. 
Also, it can damage your driveway, and your neighbours may fill them up when you're not around. 
Besides, you have to perform all the hard work yourself, from the sorting to the lifting. Know everything about a skip before hiring one of them for your protection. 
Hire a Rubbish Removal Company
Among the numerous options, partnering with a professional waste collection company is the most convenient and efficient way of removing bulky household items.
It can be challenging to haul, lift and dispose of large appliances, furniture, mattresses and other unwanted items. If you want to skip all the troubles, you can always hire a rubbish removal company in Sydney.
They can undertake all the tasks for you. Expect a clean and rubbish-free home once you rely on the experts for same-day bulky waste collection and disposal.