10 things we do that puzzle and scare horses
Written by

Paul McGreevy, Professor of Animal Behaviour and Animal Welfare Science, University of Sydney
Horses, like our dogs and cats, are familiar to many of us, be they racehorses, police horses, or much-loved pony club mounts. So it might surprise you that horses, in Australia, are more deadly than snakes, and indeed all venomous animals combined.
An equine veterinarian is more at risk of workplace injury than a firefighter. Does horses' apparent familiarity lead us to misinterpret or misunderstand their behaviour?
Read more: 8 things we do that really confuse our dogs
Some of our interactions with horses correspond to interactions between horses themselves. Giving our horse a scratch on an itchy spot or allowing them to rub their head against us, while frowned on by some trainers, mimics how horses behave together.
But there are many other interactions which, from the horse's perspective, are unusual or downright rude.
The culture clash between horses and humans can trigger defence or flight responses that can leave us badly injured. Here are ten common challenges we present to horses:
1. Invasive veterinary care
There are many veterinary practices we impose on horses to keep them healthy. Some of them, such as injecting or suturing, are invasive or painful. Horses' natural reaction to pain is to flee. If they can't, they may resort to aggression, such as biting or kicking.
Horses don't know veterinary treatments are meant to help them, and hence vets who treat horses are at more risk of injury than those treating other species. Equine vets sustain more workplace injuries than construction workers or firefighters.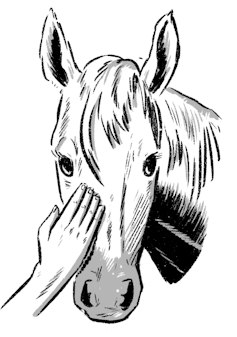 Authors: Paul McGreevy, Professor of Animal Behaviour and Animal Welfare Science, University of Sydney
Read more https://theconversation.com/10-things-we-do-that-puzzle-and-scare-horses-143675