Rocky icebergs and deep anchors – new research on how planetary forces shape the Earth's surface
Written by

Simon Lamb, Associate Professor in Geophysics, Te Herenga Waka — Victoria University of Wellington
Have you ever wondered why the Earth's surface is separated into two distinct worlds – the oceans and large tracts of land?
Why aren't land and water more mixed up, forming a landscape of lakes? And why is most of the land relatively low and close to sea level, making coastal regions vulnerable to rising seas?
Our new research uncovers the fundamental forces that control the Earth's surface. These findings will help scientists calculate how land levels will respond to the melting of ice sheets and rises in sea level, as a consequence of global warming, as well as providing insights into changes in land area throughout our planet's history.
Shutterstock/yong922760
Rocky icebergs
The research draws on the work by an inspiring early geologist. In 1855, the British Astronomer Royal George Biddell Airy published what is arguably one of the most important scientific papers in the earth sciences, setting out the basic understanding of what controls the elevation of the planet's surface.
Airy was aware the shape of the Earth is very similar to a spinning fluid ball, distorted by the forces of rotation so that it bulges slightly at the equator and flattens at the poles. He concluded the interior of the Earth must be fluid-like.
His measurements of the force of gravity in mine shafts showed the deep interior of the Earth must be much denser than the shallow parts.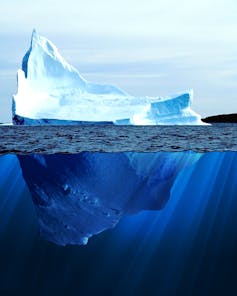 Authors: Simon Lamb, Associate Professor in Geophysics, Te Herenga Waka — Victoria University of Wellington
Read more https://theconversation.com/rocky-icebergs-and-deep-anchors-new-research-on-how-planetary-forces-shape-the-earths-surface-146576