Click Frenzy's Ironshopper winner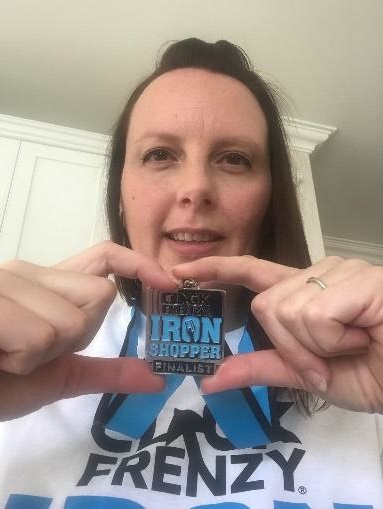 CLICK FRENZY HAS CROWNED AUSTRALIA'S FIRST EVER IRONSHOPPER WINNER, WITH 50K PRIZE MONEY
This year, Australia's biggest online shopping event, Click Frenzy, added a whole new twist to their 24-hour sale with the 'Ironshopper competition'. They set out to find Australia's best online shopper, and the winner has been officially crowned.


Katie Skinner, a resident from Beechworth Victoria, has taken home the coveted title alongside a whopping $50,000 prize money.


Katie got the news from Click Frenzy while buying nappies. "I'm at the cash register at the supermarket, but I am so excited," Katie said. "My heart is racing, I'm so over the moon! I'm shaking!"
She continues, "I think I'll spend the money on a new car as it's in desperate need of replacing."
You can view Katie's initial entry for the Ironshopper competition here: https://www.facebook.com/katie.skinner.92372/posts/10156551015166125?notif_id=1541466151143952&notif_t=video_processed.
To be in the running, Australians were asked to submit a short video prior to the event outlining 'why they could be Australia's ultimate online shopper'. The lucky finalists were selected a few days before the sale and needed to participate in an all-out e-commerce battle when the Click Frenzy sale kicked off on Tuesday 13th November. During the event each finalist had access to $1000 to spend on a shopping haul and face a series of challenges throughout the 24-hour mega-sale.
The Ironshoppers were judged on speed, discovery, brand knowledge, variety, value, quality and creativity, with Jo Munro, The Savvy Shopaholic, on hand to assist with the judging.
Jo Munro says, "Judging the $1,000 shopping hauls of the finalists was enlightening.  There was some very savvy bargain hunting, some really well thought out strategies and some really amazing savings."



"Congratulations to Katie! Being named the first Click Frenzy Ironshopper is a testimony to great skill, good buying decisions and deft gamesmanship working through the challenges.  I would love to go and do some savvy shopping with them sometime!"


Here are some more details about each challenge:


Discovery - a tiny sliver of a product image was given to the Ironshopper finalists, who worked their way through the site to find the matching product as quickly as possible.
Speed - finalists challenged each other in a race to react to a pop-up deal and be the fastest to make a purchase online.
Style - finalists were asked to choose products on a $500 budget to style a virtual living room.
Brand challenge - finalists had to figure out 15 Click Frenzy brands based on a tiny snippet of their logo, with points awarded for speed and accuracy.
For those that missed out on becoming a finalist, they went into the draw for the Ironshopper Wild Card competition with a $10,000 prize. They simply needed to be a registered Click Frenzy user (which is free) and post the Click Frenzy items they bought via their account page. Click Frenzy is still working through the submissions for the Wild Card prize and will be announcing that winner before November 21.


"We're so excited to announce our first Ironshopper winner," says Grant Arnott, Managing Director, Click Frenzy. "This initiative was very successful and gives the art of online shopping the status it deserves. We congratulate Katie and all of the finalists that participated in the inaugural Ironshopper event."
About Click Frenzy
Click Frenzy, Australia's biggest online shopping event, ran from 7pm AEDT Tuesday, 13 November until 7pm AEDT Wednesday, 14 November. 24-hour sale had over 4,000 deals this year from over 500 retailers including Webjet, Nike, Sony, ASOS, Flight Centre, Myer and more.