Truffle Season Comes to Canberra
Written by

Cassie Dunchue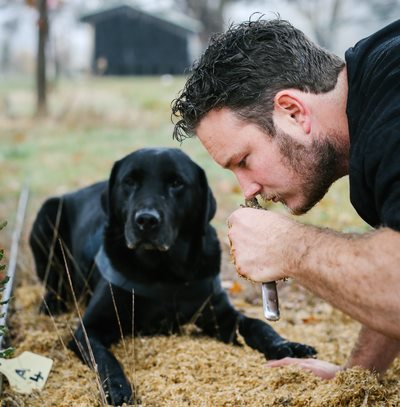 As the weather cools, Canberra and its' surrounds come alive with truffle events across the region. From The Truffle Festival – Canberra Region through to events run out of Canberra's only trufferie The Truffle Farm Canberra, there's little doubt that Canberra is the capital for this prized ingredient.
Now in its ninth consecutive year, The Truffle Festival – Canberra Region is the first and largest festival of its kind in Australia. Each year from June to August, more than 250 individual events are held across the Canberra region, highlighting the French Black Winter Truffles. Events range from the hands-on, with truffle hunts and forages, to the indulgent, with degustation and wine dinners at venues across the city.
One of the best ways to discover the fascination of the black truffle is to enjoy a hands-on experience with a hunt. Macenmist Black Truffles and Wines, Turalla Truffles, Blue Frog Truffles and The Truffle Farm Canberra will all conduct truffle hunts throughout the season, where participants can join the truffle hunt dogs to find this prized gem. For the true paddock to plate experience, stay on for a cooking class or leave it to the award-winning chefs on hand to create a meal unlike any other for you to enjoy.
For those who prefer to enjoy a more laid-back encounter with this tasty ingredient, venues across the city are getting in the truffle spirit to celebrate the season. Sample a truffle infused beer courtesy of the bar-top Hopinator at BentSpoke Brewery. From Bicicletta in NewActon to Some Cafe in Collector, restaurants across the region will feature truffles in a range of specials, truffle-inspired menus and one-off degustations. 
To see the full program of events on during The Truffle Festival – Canberra Region, or to experience an event at The Truffle Farm Canberra, check out their websites. To stay up-to-date with the latest events happening in Canberra, head to visitcanberra.com.au