Written by Modern Australian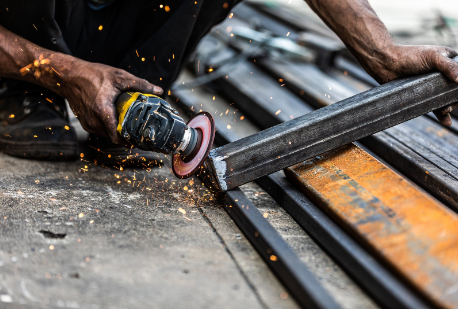 Can you put scrap metal in skip bins?
Running a home or a business is hard work. There's a constant need for maintenance and of course, cleaning.
Running both can be overwhelming and many people find that waste builds up quite quickly because council bin collection is limited.
Local councils vary in their commitment to domestic waste collection; some have a regular collection and fewer restrictions on what you're allowed to put in the bins, whilst others collect less frequently and have many restrictions.
One thing you can't put in most domestic waste bins however is scrap metal aside from tin cans etc. Which can be put into the recycling bin.
Most scrap metal has some value but many people don't bother to recycle it because of time restrictions. This is especially true if you've just renovated your home or business and removed old fixtures and fittings. Renovations can take a lot of spare time and that means there are fewer opportunities for sorting out those additional issues.
If you have a build-up of scrap metal in and around your home or business – but you don't have much time to spare - then hiring a skip from Skip Bin Finder Sydney can be the most convenient way to dispose of it.
The risks of scrap metal
Scrap metal can be more dangerous than many people realise. It poses a hazard to people and to animals. When it begins to build up outdoors, it naturally also begins to rust and rust is potentially dangerous due to a bacteria called Clostridia which can cause tetanus.
It's not the rust which causes the tetanus but rather the bacteria which is attracted to rust as suitable environment in which it thrives.
Then of course, there's the very real risk of injuries like cuts and gashes which can come from old metal left lying around.
If you have a build up of scrap metal in and around your home or business, the safest thing to do is to organise a skip bin for its removal.
Mixed waste skip bin for metal
There are a number of different skip bins and each is meant for a different waste type. Green waste skip bins for example are meant for garden rubbish, whilst mixed waste skip bins are meant for all kinds of junk including metals.
What goes in a mixed waste skip bin?
Hardfill waste
Bricks, concrete, tiles – all pieces must be no larger than 600×600

Treated timber
Retaining walls, decking, floorboards, fences, sheds

Household waste
Clothes, paper, cardboard, bedding, towels, kitchenware, bathroom accessories, duvets, cushions

Furniture and Appliances
Cupboards, loungers, washing machines, cots, beds, fridges, chairs, sofas, scrap metal

Green waste
Shrubs, foliage, grass clippings, leaves, twigs, bushes, palm trees

Tree trunks
Trunks must be smaller than 300mm in diameter and under 300mm long
Scrap metals can placed in mixed waste skip bins and might include the following.
* Corrugated metal fencing or loose pieces of corrugate

* Sheet metal

* Old radiators

* Car parts

* Copper piping and other pipes

* Old machinery

* Whitegoods such as fridges and washing machines

* Domestic electrical items such as kettles
What metal should not be placed in a skip bin
Full or partially full paint cans should not be placed into any skip bin. Paint needs to be taken to a separate recycling agent. Gas tanks or gas bottles are also not safe to place in skip bins as they are highly flammable.
Any metal container which has chemicals or toxic waste stored within it should not be placed in a skip bin.
Speak your supplier if you're at all uncertain about skip bin hire and scrap metal or about any other aspect of skip bins and their use.
In general, skip bins are easy to use and very simple to book. You simply need to select the size and type of skip bin you need, choose a day for delivery, and wait.
Once your skip bin arrives, you can then use it at your own convenience. Collection is usually determined by you at the time of booking, so you'll know exactly how long you have your skip bin for and can fill it up before it's removed.
Filling a skip bin is easy as most come complete with a drop-down hatch at the rear. This means you can use the supplied ramp to wheel a wheelbarrow up to the skip bin and tip in heavier items like scrap metal.
Skip Bin Hire Sydney – keeping Australia beautiful
Hiring a skip bin isn't just a convenient way to get rid of your unwanted junk. It's also a great way to keep waste out of landfill.
When you add recyclable items to your skip bin, you can rest assured that the things won't be simply dumped but will be sorted carefully.
During sorting, any items which can be reused will be sent to the correct agents so that the recycling process can begin. This includes all metals and plastics in addition to paper and cardboard in good condition and even green garden waste.
Skip bin suppliers work closely with other specialists to ensure that landfills aren't overfilled.
Booking is easy and you can also hire mini skips if you don't have a lot of waste. Mini skips are great for those times when you have just too much for general rubbish collection but not enough for a large skip bin.
Make your life simpler with skip bin hire for waste of all types.