Traditional shirt-making for the modern era
How the second generation of a traditional shirt maker is transforming the family business for the digital age
From Madrid to London and now the world, Santamaria Shirt Makers is bringing decades old custom shirt-making expertise to discerning customers around the globe. The story starts with Ramon Santamaria, the master tailor whose signature is emblazoned on every Santamaria shirt. His is a labour of love, having mastered his craft for over 50 years to become one of Spain's most respected and award-winning shirt makers.
Using modern technology, his daughter Ana is taking Santamaria Shirt Makers to new frontiers. With a worldwide online offering, the company has developed a unique 3D shirt customiser that allows buyers to choose their fabric, design and look, as well as input measurements without having to visit a physical store.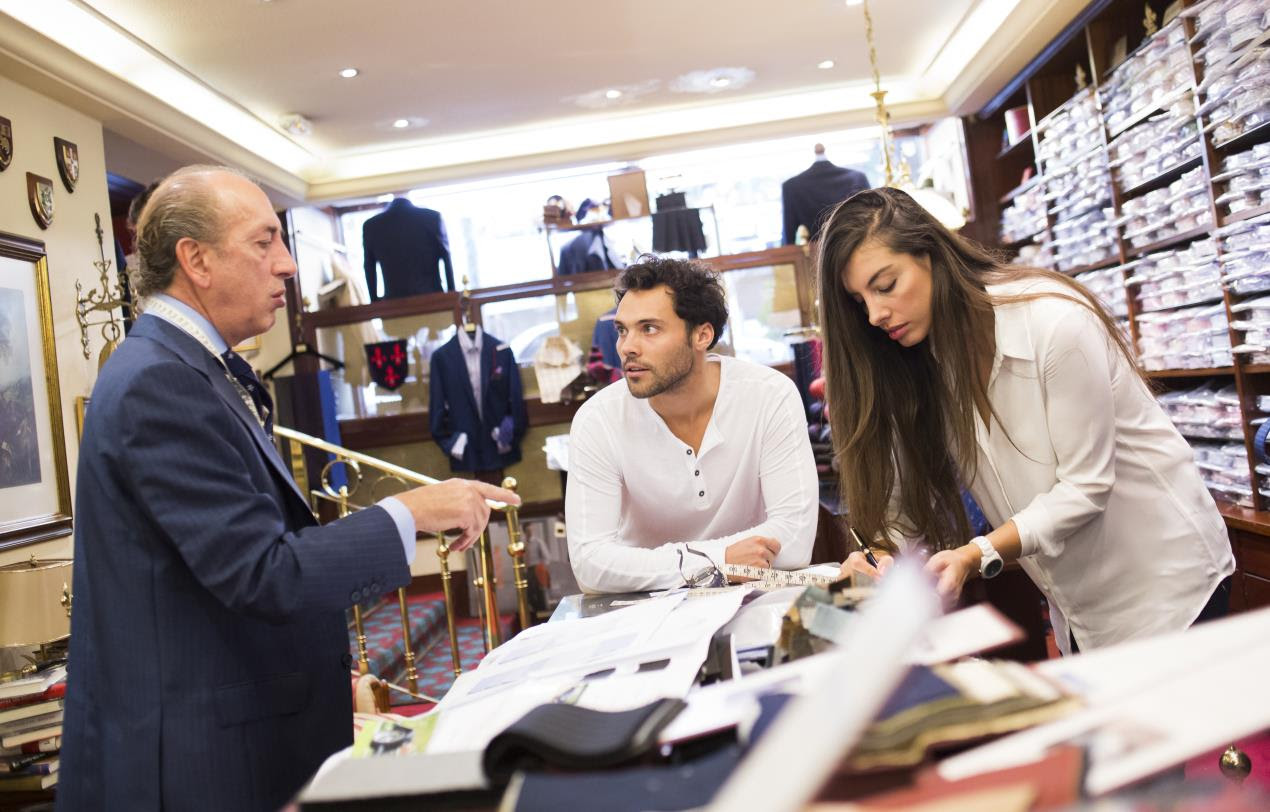 Master tailor Ramon Santamaria and founder Ana Rodriguez at a fitting session
A Santamaria shirt reflects the very essence of its wearer. Using the finest quality fabrics imported from Italy, shirts are stitched in Madrid under the stewardship of Ramon, ensuring bespoke tailoring and fit quality not to be found elsewhere, whether in-store or online. Proof of quality is found in Santamaria's 100% perfect fit guarantee which assures customers they will always get the exact shirt they want.  
 From design to reality
Santamaria does have physical stores, in Madrid, Spain where Ramon's expert eye ensures quality workmanship, and in Notting Hill, London where Ana guides customers when it comes to choosing fabric and styling.
Some of Santamaria's unique services include:
Online bespoke service

- with their one of a kind 3D shirt designer, clients can create their perfect shirt from the comfort of their home  

Athletic/muscle fit

- shirts that uniquely fit the wearer. These are nowhere to be found on the high street - no more baggy or undersized shirts

Hand stitched shirts

- a unique tailoring practice where the collar and cuffs are hand stitched to achieve a one of a kind finish  

Express shirt making

- bespoke shirts in a week whereas the normal time scale is 4 weeks

Ladies Bespoke Shirt dresses

- a unique in store service were clients can design any style they want and ensure perfect fit

Kids bespoke

 - a 'mini-me' father & son matching outfits
www.santamariashirtmakers.com