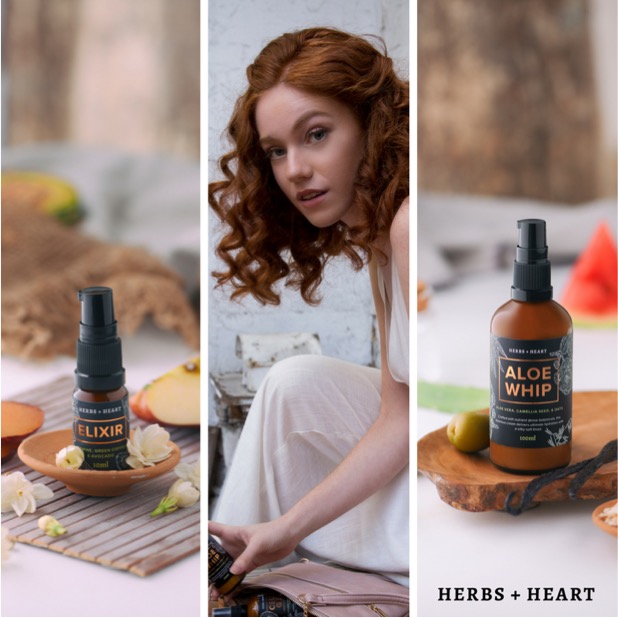 It's safe to assume that most Aussies fail to eat enough greens. Although this was momentarily resolved with the rise and popularity of the green juice movement, the lack of nutrient-rich garden goodness in our diets can pose a number of undesirable side effects: namely, poor skin.
Green foods have been shown to contain high counts of antioxidants, including vitamins A, C and E, and
Purely Minerals
 can serve as an effective detox system, particularly when consumed in the morning before the body is subject to environmental and lifestyle stressors. Vegan-friendly skincare company, HERBS + HEART, realise the raw benefits of green ingredients and have formulated a two-step skincare regiment using natural and ethically-sourced green foods to feed and nourish the face.
Advocates for 'sophisticated simplification', the HERBS + HEART Elixir is considered a morning serum staple by awakening tired skin, enriching it with antioxidants and vitamins, and providing an instant glow. Unique to other serums on the market, this dose of nutrients glides onto skin smoothly and is instantly absorbed. Containing green coffee bean enzymes, avocado fatty acids, and moisture-balancing jasmine, this unparalleled concoction promises to fight free radical damage, relieve puffiness and minor pigmentation, stimulate elastin and add hydration. With a matte finish effect, the Elixir also contains gold mica which manifests in a naturally radiant, glowing complexion.  
Continuing with the concept of 'food for the skin', the HERBS + HEART Aloe Whip moisturiser is whipped to a smooth consistency for a silky application. Containing naturally occurring aloe, the moisturiser provides a solid base for vitamins C and E, including beta carotene, to improve the skin's firmness and hydration. The inclusion of oats not only gives the moisturiser a delicious vanilla muesli scent, but serves as a protective film; fortifying the skin's natural UV barrier and sealing in moisture. In turn, this allow the serum and other active ingredients to deeply penetrate and continually nourish the skin throughout the day. 
Cruelty-free and using only the finest of locally sourced ingredients, HERBS + HEART is available nationwide at: www.herbsandheart.com, and retails from $28 RRP.