How to Decorate a Shared Bedroom for Your Kids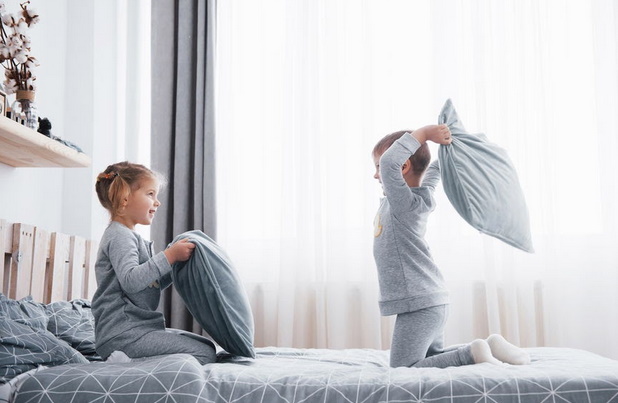 Decorating a shared room for your kids can be hectic due to different styles and interests. Kids have an idea of what they want, and listening to them will help you develop a proper design. Age of your kids, individual interest, and the space size have to be among the considerations. Below are ways to decorate a shared bedroom;
1. Gender-Neutral Design
Remaining neutral with the design you pick when decorating your kids' room is essential. It will eliminate the chance for different genders to share one room feeling ignored. Neutral room design gets rid of jealousy between kids sharing the room.
2. Use Wall Art
Decorating a room with art makes it stand out. Involving your kids in selecting the art will help come up with something that satisfies both the kids sharing the room. Art can be a contribution to designing a dream bedroom for your kids.
3. Smart Storage Idea
Storage is essential to incorporate when designing a shared bedroom for your kids. You have to invest in items that save space and provide enough storage for both kids. They are custom made bunk beds with storage that can be bought when designing a shared room.
4. Choose the Right Décor with Names
Décor has to be among the important consideration when designing a shared bedroom. To enhance privacy, you can divide the room with décor and different accessories. Let the kids choose the décor they want for their space when they have beds in different ends of the room. Investing in custom baby blankets with names will give a classic pop to the shred room design. Naming individual décor to exclude favouritism in the design and makes all the kids feel comfortable in the space.
5. Section the Room
Using DIY to divide your kids' room is essential. Plants, glass walls, and curtains are examples of what you can use to section the kids shared room when designing one. Sectioning promotes entitlement to the individual space of the kids sharing room. The long term benefits of sectioning your children's bedroom can share the room even after becoming teenagers.
A Design Expert Can Help In Designing Shared Bedroom for Kids
You will realize it is not easy to come up with the right design. Hiring an expert who understands the design of the home environment is essential. You will get options and choose what and out for your kids with the help of a design expert after evaluating your space and listening to what you want. Help is paramount because creativity will be on the higher end when making decisions.
Final Thoughts
Designing a bedroom for children is hectic, let alone a shared one. Carefully checking all the options you have and making the right consideration will make the process smooth and successful. When designing a shared bedroom for kids, your aim should be to make the design grow with them to save the money needed for upgrading. All the ideas given above are essential and reliable in creating the perfect sleeping area for your kids. Also, don't forget to choose the right kids mattresses for their beds.

About the Author
Emily Lamp is a professional writer, working closely with many aspiring thinkers and entrepreneurs from various companies. She is also interested in technology, business growth and self-improvement. Say hello to Emily on Twitter @EmilyLamp2.