The benefits of a COVID vaccine far outweigh the small risk of treatable heart inflammation
Written by

Jonathan Noonan, Research Officer, Atherothrombosis and Vascular Biology Laboratory, Baker Heart and Diabetes Institute
Repeated COVID-19 outbreaks in Australia have once again highlighted the need for rapid and widespread vaccination. We are extremely fortunate the global scientific community has been able to develop a handful of highly effective vaccines in such a short time.
As with any vaccine or medicine, the COVID vaccines do carry small risks. The rare blood clotting disorder caused by the AstraZeneca vaccine — thrombosis with thrombocytopenia syndrome, or TTS — has largely dominated the headlines.
But we're also seeing reports of a potentially increased risk of myocarditis and pericarditis (heart inflammation) following the mRNA COVID-19 vaccines, developed by Pfizer/BioNTech and Moderna.
Here's why this shouldn't be cause for concern.
First, what are myocarditis and pericarditis?
There are three main types of heart inflammation: endocarditis, myocarditis, and pericarditis. These involve inflammation of the inner lining of the heart, the heart muscle, and the outer lining of the heart respectively.
Viruses, including the SARS-CoV-2 virus that causes COVID-19, are the most common cause of myocarditis and pericarditis. Essentially, the inflammation the immune system generates to combat infections can inadvertently lead to inflammation of the heart.
In the very rare cases of myocarditis and pericarditis observed after vaccination with a COVID mRNA shot, it's possible a similar thing might be happening. That is, the vaccine causes the immune system to generate some level of inflammation so it's prepared to mount a response against SARS-CoV-2, and this inflammation is partially misdirected to the heart.
But the risk is very small, and the conditions are treatable.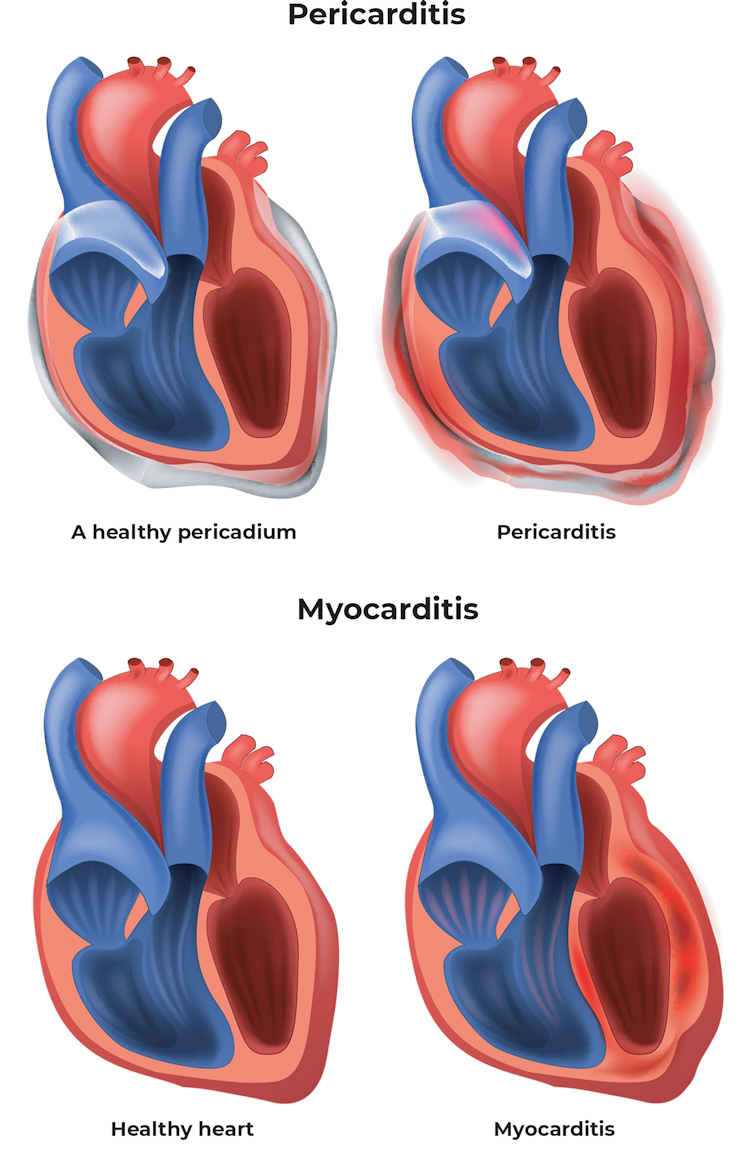 Authors: Jonathan Noonan, Research Officer, Atherothrombosis and Vascular Biology Laboratory, Baker Heart and Diabetes Institute
Read more https://theconversation.com/the-benefits-of-a-covid-vaccine-far-outweigh-the-small-risk-of-treatable-heart-inflammation-163970