7 Ways to Style Sterling Silver Rings to Make Them Stand Out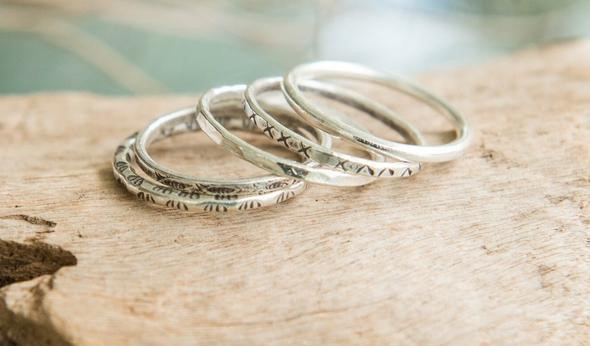 Silver rings have been a classic jewellery piece for years. It is always in fashion and for good reason because it is incredibly versatile. Whether your aesthetics are for giant statement pieces or thin and elegant pieces, Sterling Silver Rings can bring style and flair to your look.
But with such incredible versatility and readily available pieces, it is easy to get overwhelmed by your choices. The following are some fun ways to kick up your sterling silver rings' style and develop a unique fashion statement.
Make your rings pop with blocks of colour.
An outfit utilising block colours sets the stage to allow your silver rings to stand out. Obvious colour choices are black, white, and grey. Each will provide a classic style and universal air while contrasting with silver metal. If you are mesmerised by the aesthetics of bulky rings, then block shades are an ideal choice. It keeps your fashion understated enough while allowing your statement ring to stand out. However, don't think that you should stick to the basics. Silver also pairs great with dark navy and royal blue as well as warm purple and burgundy shades.
Pair your sterling silver rings with patterns.
Silver jewellery is a classic and can be perfectly paired with outfits with shapes and patterns. When you pair your ring with a bold or intricate pattern, it is best to wear simpler jewellery. A classic and dainty silver ring will provide some glitter with a statement outfit. It will not overpower the eye.
Dare to stack rings on your finger.
Wearing stacked rings is the latest way to provide a funky edge to your fashion. It levels up your style with a versatile look. You can purchase ring pieces as a preset group. Rings with a flat edge design can be stacked on the similar kind. But make sure not to overload a single finger with too many bold pieces. Choose one ring to be the main piece and utilise others as pieces that complement its look. It keeps your stacked finger from looking too tacky and crowded.
Match it with other silver pieces.
Sterling Silver Rings are a great match with other jewellery such as earrings, bracelets, and necklaces. But make sure you do not wear too many large statement pieces. If one jewellery piece is something you consider an eyecatcher, try matching it with other minimalistic designs.
Pair sterling silver with leather.
Tan leather and suede material are great compliments to sterling silver jewellery. They can style a boring outfit with some boho flair.
Leather cuffs look trendy with silver rings. These pieces contrast each other. Wearing leather jackets, bags, and belts will also provide your silver jewellery with an ideal stage to stand out.
Mix your silver with gold pieces.
There is a notion that mixing silver and gold should be avoided. However, experimenting with combining silver and gold pieces provides you with a unique and devil-may-care attitude.
Match silver rings with your bag.
When it comes to silver rings, you must be cautious where your hand will rest, or items you will be holding.
If you are attending an evening event, you should keep your clutch's colour and style in mind. Even the most elegant ring in the world will look gaudy next to a fluorescent pink clutch.
For casual outings, pair your silver rings with a light tan leather bag. Wear something casual and fresh.
Silver is fashionable and affordable. There are endless designs on the market that utilise silver material. It is easy to find a design that truly resonates with you. Choose elegant styles or pieces that make you feel like a rock star.
Author Bio: Ester Adams is an experienced independent content writer with a demonstrated history of working in the writing and editing industry.  She is a multi-niche content chef who loves cooking new things.