Tips to Help You Walk with Confidence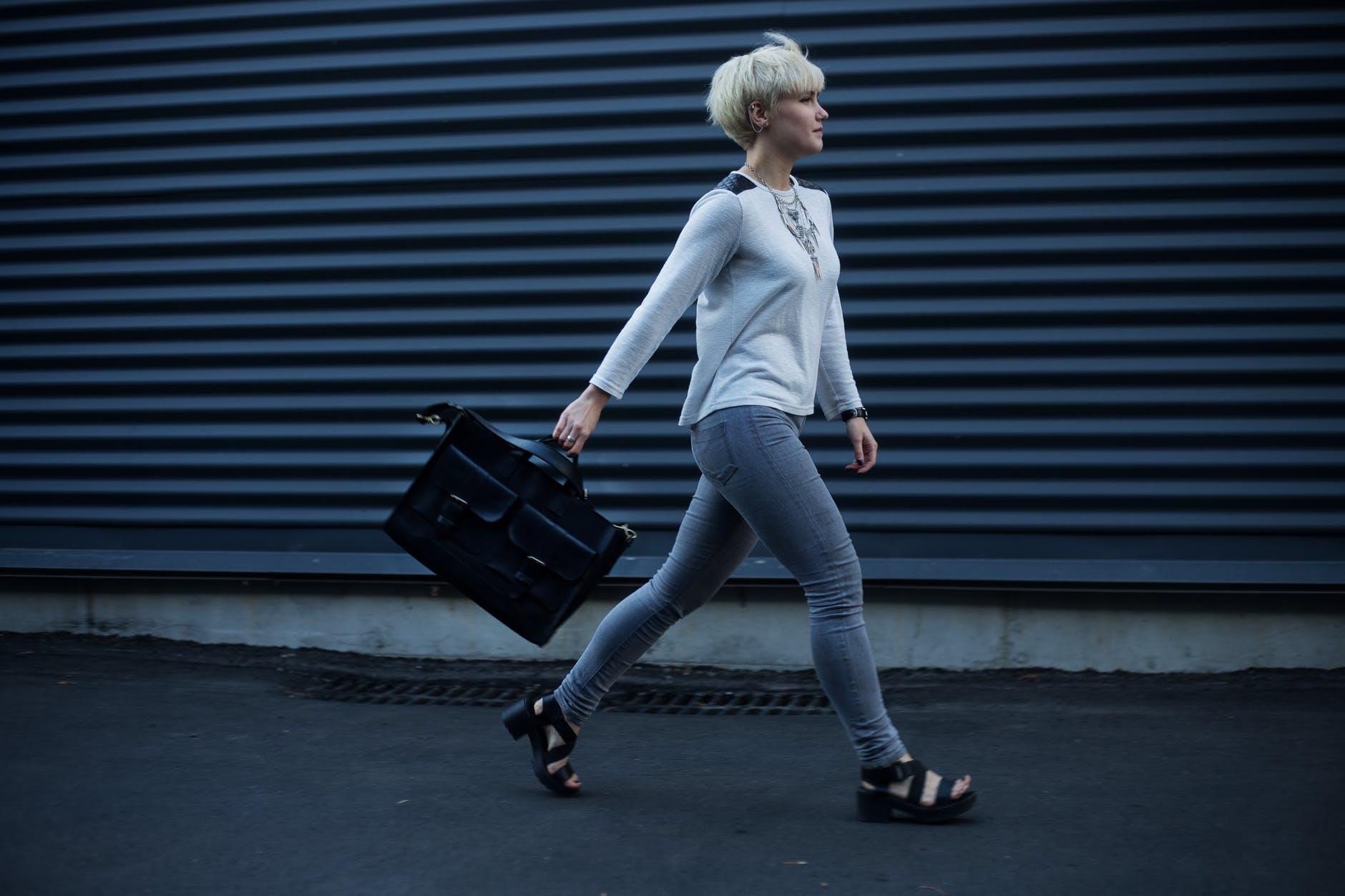 The judgmental comments are overruling people from being themselves. Believing in yourself is the primary step in fostering your confidence. Your body language provides ample evidence of your confidence levels, it becomes obvious by the way you walk. People know it when you feel happy, scared, disappointed.
Confidence is all about throwing away the mask and being yourself, accepting who you are. Some people feel confident by dressing nicely while some people feel confident by taking up challenges. All those people suffering from a lack of confidence need to buckle up themselves. Take a look at these 10 tips to help you walk with confidence.


Stop Looking Down!
You may like admiring the floor, but this is not something you should be doing while walking. Hold the potential to face the crowd around you, rather than staring at the floor and looking weak. There's a general assumption about being 'weak' for all the people who look down while walking.
After all, no one wants to leave such an impression on people. So, chin up and face the world by looking right into everyone's eyes. It won't make you feel confident but makes you look a lot more presentable.


Dress to Impress
Indeed, your clothes don't define you, but it can surely help in leaving a good impression. Besides, many people like shopping from ebandive and dressing up. A good dressing sense says a lot about a person's personality, style, character. Therefore, make sure to dress well. Choose something which complements your personality and pertains to the occasion.
Don't you have entirely different energy levels when you're dressed up? Believe it or not, but it does make you feel confident, helping you walk with utter grace and poise.


Make Eye Contact
Surprisingly, it is one of the most important things when we talk about being confident. Imagine how you would feel if the other person looking here and there while talking to you? Unappealing, right? It leaves a message that the other person is confused or shy to talk properly.
Thus, you shouldn't be the one doing this. Rather than digging your head inside the phone or fixing your gaze on the floor, look up and maintain eye contact with the people around you. It depicts confidence and a positive spirit. For all the socially awkward individuals, consider looking at the other's person's nose if you face difficulty in maintaining eye contact. Don't worry, this gesture is perceived the same way.


Keep Your Back Straight
You have to stop hunching your shoulders. It makes others feel as if you're tired and dull. Maintain a good posture while walking is equally important as sitting with a good posture. Thus, fix your posture, keep your back straight, shoulders high and feel the confidence in you.
Not just this, but people would also perceive you as a confident, smart individual. If you don't know how to make this possible, try doing some wall angles to see whether you bend your shoulders or not.


Don't Drag Your Feet
Don't you find the screeching sign annoying? This happens when someone decides to drag their feet rather than walking properly. Some people have a habit of doing this, it does nothing but makes other people feel you have low energy levels and lack of etiquette.
Hence, refrain from dragging your feet and making unnecessary sounds. Tap your feet while you walk, it may create sounds, but those aren't the annoying ones. The same rule applies to women wearing heels. Walking properly by tapping feet is just a part of walking confidently.


Take Out Hands from the Pocket
Most of the men and women have a habit of doing keeping hands in their pockets. Some feel cold while others just like going this without realizing that it makes them look tame. Putting hands in the pocket crouches your shoulder which is very unappealing. Therefore, take out those hands and consider swinging your shoulders, it reflects confidence and grace.
A good posture, straight back, and swinging shoulders are key to look confident. So, to walk confidently you have to take out those hands from the pocket. Grab a pair of gloves if you feel super cold all the time.


Walk with a Smile
Facial expressions are a great way to express yourself. Having a straight face all the time leaves a perception that you're rude or arrogant. So, if you think you look confident while making a straight face, give yourself a reality check! A nice smiling face can never go wrong.
Apart from being an amazing gesture, smiling at people around also shows kindness while demonstrating confidence at the same time. Hence, smile it away.


Initiate a Conversation
This can be a challenge for introverts but if you're walking with some people, then unlock the zip of your mouth or else others might feel you're rude. It could be difficult in the beginning if you're socially awkward but choosing a random topic is never difficult.
You can initiate a conversation by discussing how amazing the sky looks or where they're heading towards, it can be anything. Alongside, boosting your confidence it represents a lively personality too. However, it's up to you whether you want to talk or not.


Refrain from Walking Fast
Usually, people have a habit of walking very fast even when they are not in a hurry. This shows you don't have the guts to face the crowd due to which you're in a rush. To walk with confidence, you have to walk with a moderate speed. Don't go as slow as a turtle nor run a marathon. Take wide steps but with head up and eyes straight. Such body posture represents nothing but confidence.


Don't Move Restlessly
Some people have a habit of fidgeting constantly. Even while talking to someone, they're constantly moving their feet, shaking legs, or making hand movements. As per the psychologists, these are the signs of nervousness. So, if you're one of those people, you need to stop doing this.
This is more like a habit but whenever you find fidgeting, immediately stop yourself. This can help you walk with confidence, ruling out any signs of nervousness.


Conclusion
Many people are shy and awkward due to which they have low self-esteem and poor confidence levels. As a result, they have issues while walking, talking to people, attending social gatherings. Jacking up your confidence levels is super important, after all, you have to believe in yourself. Take a look at the above-mentioned tips to help you walk confidently. After reading this, you can surely walk with utter grace and confidence facing people courageously.