Innovative Feather Flags Create Colorful Promotions And Gain Maximum Attention
Written by

NewsServices.com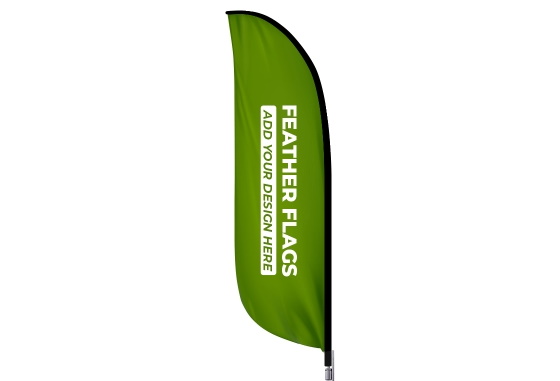 Smart and innovative thinking is always the best way to get ahead in the sphere of small and new business ventures. Over the past two years a slow-moving economy due to the pandemic, has taught a number of lessons to small business owners. Firstly, there is a lack of fund for advertising so you have to manage with the minimum that is at hand. What can you do? No promotions is as good as no business growth hence that is not an option to go for. If you are looking for a budget friendly promotional tool then here are feather flags to opt for.
What Is A Feather Flag Used For?
A feather flag is the easiest way to flash your company name and logo over an area and make it visible to people even from a distance. These are placed on individual stands and comprise of a flag that is flat in shape and thus has two sides to it. Two sided flags mean an advantage of showing both sides to the onlookers and passersby no matter which side they are approaching from. If they see the flag, they see the name and logo of the company as well.
Advantages Of A Feather Flag
* You can place these at a variety of events and sponsored programs where your company is participating. These are a regular feature at trade fairs, launch events and sports competitions.

* They are slender looking narrow flags placed on individual banner stands. This makes these very secure in position but easy to set up.

* The banner stands can be adjusted with height requirements which you can set effectively to ensure proper visibility for the flags

* Feather flags are available in full color graphics and a gloss finish which not only makes these pretty and attractive but visible from a distance. These are extremely eye catching.

* Because these flags are placed at indoor and outdoor locations you can place these at vantage points that will be visited by a lot of people. This is even true in case of events and other programs.

* Transportation of feather flags and setting them up or carrying them to different places for effective placements is all very easy and less time consuming.

* The most important advantage is its budget friendly pricing.
Why Is A Feather Flag Best Choice For Small Business
Funds availability for a consistent and steady marketing and promotional campaign plan is very often not available with small companies. But that does not have to stop them from going for a more affordable plan for promotion. Feather flag is the best answer for such a campaign. These are very budget friendly and can be easily availed from companies online. The manufacturing companies provide a competitive price package that includes designing and customization along with free delivery and cases for storage.
Durability And Reusability
Feather flags never go out of fashion for promotional purposes. Once you have them you can always use and reuse these at any event later on as well. Being affordable you can always go for a different set of flags but reusability of an older set of flags is always possible. This is more the case because these flags are made of durable fabrics like polyester which retains the finish and color graphics effects for the longest time.