Should you consider timber flooring for your office space?
Written by

NewsServices.com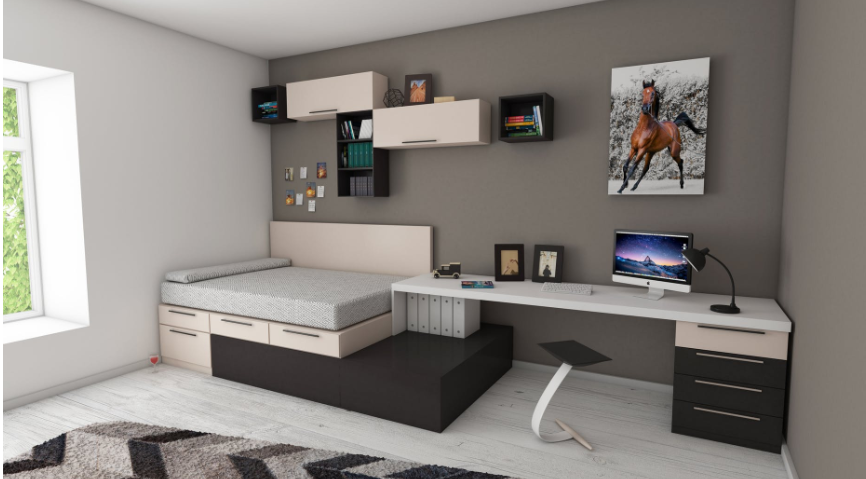 The average person will spend 90,000 hours at work over a lifetime. For most people, this means having full-time hours, 37.5 hour work weeks. That's a sizeable amount of time for people to be in one space, working day in and day out! And as more and more research comes out of how ill-designed office spaces can actually affect productivity as well as your employees' mental health, a multitude of companies are now making strides towards creating office spaces that are not only conducive to productivity, but also look good and feel good. There is a newfound focus on helping employees enjoy their job by creating a beautiful, well thought-out environment to work in.
But when attempting to design a space, there's a lot you need to factor in: from layout, colour palette, furniture, and windows, it can all get pretty overwhelming. To make an informed decision about office flooring, you'll have to keep a few things in mind. To make it simpler, we list what you need to consider when choosing office flooring, and what benefits there are towards our preferred flooring: engineered timber flooring!


What to Consider


Office Layout
Of course, the office layout is one of the most important factors when trying to choose your office flooring. For open plan offices, it may be advisable to reduce noise using carpets, which are softer underfoot than vinyl flooring to assist with the acoustics of the space. For cellular office layouts, or even businesses with reception areas, we suggest timber or engineered timber flooring for an elegant look that can also withstand heavy foot traffic of busy receptions.


Foot Traffic
Think about how busy your office space gets: do you get lots of thoroughfare from different clients going in and out, or are your employees the only ones that go through the space regularly? It's important to think about the amount of foot traffic the space gets on the day to day because your flooring options differ accordingly.
For offices that are quieter, with less people walking around, carpet is a good option for meeting rooms and workspaces, as it won't wear and tear as quickly. But for offices with higher foot traffic, carpeted flooring can actually be a bad idea, as this shows damage quickly, and may need frequent replacing and cleaning. Instead, consider engineered oak timber flooring, which is built to withstand years of heavy use without showing signs of wear as quickly.


Budget
Your flooring can actually go a long way in minimising your energy bills, as well as keeping your staff and your clients comfortable year-round, so keep an eye on the normal temperatures in the space. If you've got a naturally warm office, with lots of windows that let the warmth of the sun in all day, timber or tiled flooring can help to keep the office cooler. For offices that are in the shade, or are cooler, carpeted flooring might be a better option to maintain a steady warmth throughout the spaces.


Aesthetic
It's important to remember that the look of the office also represents the company itself. So if you've got a rundown looking workspace, not only are your employees more likely to be demotivated to do their best work, but your clients won't be as keen to work with you, either. There are a thousand ways you can create a beautiful space with intricate interior design, but for an elegant office space, you just can't go wrong with oak timber flooring. Wooden flooring gives an elegant charm that's hard to replicate, and will wow both your clients and your staff every time they come through the entrance.
Why Engineered Timber?


Effortlessly beautiful
There's a reason wooden floors are the go-to for spaces where you want an elevated, classy look. Whether you're after a more traditional design, or are leaning into the modern look, clients and customers alike will marvel at the subtle sophistication of oak timber flooring.


Versatile
Wooden flooring is perhaps one of the easiest types of flooring to match any type of interior design. From eclectic interiors to modern, sleek aesthetics, the versatility of wooden flooring is simply irreplicable, complementing your chosen designs.


Easy to clean and healthier air quality
Timber flooring is a tried and tested flooring option for people who suffer with allergies and sensitivities, as it's naturally hygienic and easy to clean. In general, germs, grime, and dirt are less likely to develop into mould and mildew on timber surfaces, as compared to carpets, which are breeding grounds for bacteria. This can actually make colds and flus more frequent in the office. Instead of expensive carpet cleaning regularly, a simple vacuum, mop, and dry mop will go a long way in keeping the germs at bay, which will help allergy sufferers in the office!Hard wearing
There's no doubt that timber flooring lasts for a long time. Making sure to purchase and install high quality engineered timber flooring not only ensures quick installation, but the longevity of your flooring for as long as your office space remains in that building. And you won't have to worry about your flooring looking dated over time, either: engineered timber flooring is timeless, and will suit whatever changes in your office interior design can occur over the years.


Minimal maintenance costs
Because it's easy to clean, and timber floors are hard wearing, there's very little maintenance cost associated with timber flooring. As long as regular, easy maintenance is kept up with, the floors will age gracefully over the years to come, with minimal scratches.