Best 2020 & 2021 Honeymoon Spots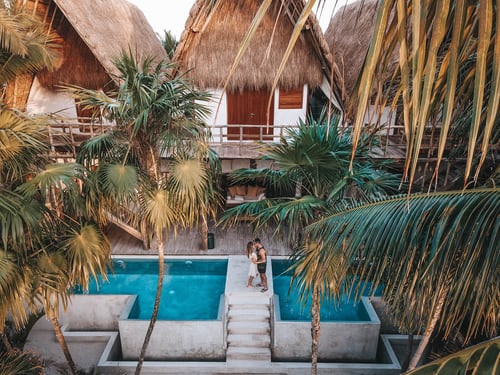 Woohoo, congratulations, newlyweds! While 2020 might not be the happiest year to get married, especially if you've been looking forward to your honeymoon somewhere far away from home, there are still so many places that will offer dreamy honeymooning experience, romance and adventure yet allow you to stay safe. Here are the top spots for newlyweds that will provide you with a time of your life in 2020 and 2021.

Dubai
Dubai is a truly magical place. It's a busy metropolitan city filled with the tallest skyscrapers you'll ever see, best hotels in the world and the most lux boutiques and restaurant, yet it's right in the middle of a desert. If you love glamour, glitz and shine, this city will not disappoint, and both of you will feel like royalty during your stay. However, you can also experience a taste of local life and Middle Eastern culture by visiting the Al Fahidi historic district or go on camel rides to remote Bedouin villages for an authentic feast. Of course, sunset couple photos from the observation deck of Burj Khalifa are a must for all newlyweds!

Sri Lanka
If you're an adventurous couple that wants to have a romantic honeymoon but also get some excitement, consider Sri Lanka. You can easily spend your entire stay enjoying the island's endless beaches, but if you look beneath the waves and sunshine, you'll find so many amazing things to do and see. Hit elephant sanctuaries, shop at lively and colorful markets, explore ancient temples and try picking fresh tea at the tea plantations. Make sure to end every day with a visit to one of its many Ayurvedic spas and try to achieve Nirvana. Basically, Sri Lanka provides all honeymooners with a perfect balance between adventure and relaxation.

New Zealand
If you want to have a versatile honeymoon, New Zealand is the right spot for you. It has everything: glaciers, mountains, volcanoes, p grassland, beaches and idyllic farmland, all packed on one island country, so no matter what you're looking from your honeymoon, "The land of the long white cloud" is here to provide. If you decide to make your destination New Zealand, be sure to study some of their travel guides so you can choose the most fitting base for your honeymoon. You can also use car rental in Auckland and rent a vehicle in order to take a quick trip to Rangitoto, Cornwall Park or Waiheke Island. Another thing you'll find out is that New Zealand is an all-year-round destination, which means you can really hit it any time of the year and have a blast. The winter season is perfect for skiing and the summers are perfect for just about everything else.

Maldives
This tropical paradise does not need an introduction since it's been one of the hottest honeymoon spots in the world for decades. And don't think this destination is overrated—it's super popular for a reason. You can get 12 hours of amazing sunshine a day, perfect for spending at some of their white sand beaches. The sea temperature is warm, water is clear and full of cute fish—it is heaven for all beach lovers. Most resorts have honeymoon packages which offer extra services like spa, private dining and other pampering and romantic activities. One is for sure, you'll have plenty of time to relax in your spouse's arms, sum up your wedding impressions and make your love grow even more!

Kenya
Do you want to hang out with animals on your honeymoon? Africa, and especially Kenya, is there to provide you with a real wildlife paradise. This slice of the continent is the spot if you want to see the so-called Big 5—lions, leopards, elephants, buffalos and hippos. But it's not all about safaris and wildlife since Kenya will spoil you rotten. Book a lux lodge and you'll be greeted with super romantic rooms, breakfast in bed and unbelievable views right from your front porch. And there are beaches too—what else can you wish for?

Napa Valley, USA
If the States are on your radar, skip traditional honeymoon destinations like Hawaii, and hit Napa Valley. This spot has a very chill vibe and European style, so if you wanted Europe out of Europe, this is the spot for you. The area is speckled with cute B&Bs, so it's a pleasant change from resorts and chain hotels. Additionally, there are so many things you can do from sunrise to sunset. One of the most romantic activities Napa Valley is famous for is hot air ballooning, so make sure to book such a tour. Wine tastings, food tasting, biking through the wine country and plain relaxing are other things you must try on your honeymoon.
Of course, it doesn't really matter where you go for your honeymoon as long as you two are together. However, it's a great thing to catch a break from the hustle and bustle of the wedding and start your married life on the right foot. So, if you want your first days of marriage to be happy, relaxing, loving and fun, pick one of these destinations above and you'll feel like you're floating on cloud nine.