Reduce Back Pain With One of These Mattress Types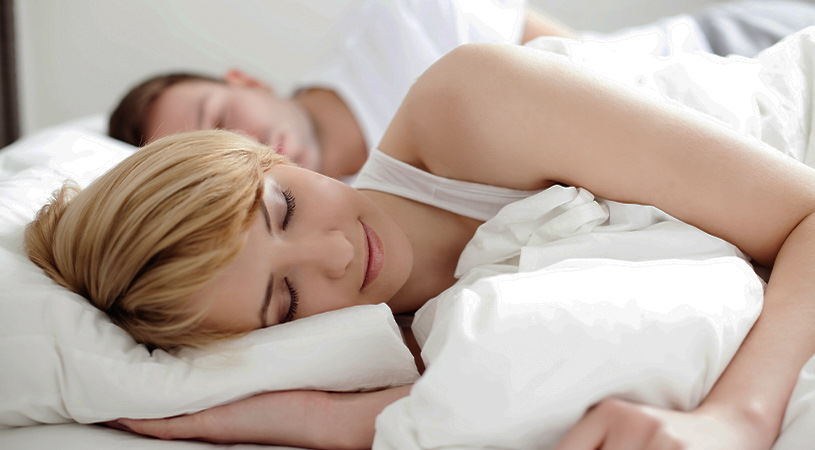 Tired of waking up sore and restless? Your mattress could be the culprit.
If your mattress is 7 years or older, then you are more likely to experience pain and discomfort, poor quality sleep, and allergy symptoms. Worse still, sleeping on a bad mattress can increase the severity of chronic pain, such as joint injuries and arthritis.
Upgrading to a new mattress – one that can provide the right balance of comfort and support on a consistent basis – will help improve sleep quality, reduce overall pain, and boost your energy levels.
Better still, hypo-allergenic mattresses that are resistant to dust mites, mould, and bacteria are fast becoming standard. So switching will help you breathe easy at night too!

Things to consider when buying a new mattress
Buying a new mattress can seem daunting at first. By following these handy hints, this will help you narrow down your options and buy with confidence.

Consult a health professional
Don't try to solve your back problems with guesswork.
If you suffer from severe or ongoing pain then seek medical advice from a health professional. They can pinpoint the exact source of the pain and – if required – recommend the best type of mattress to help you get relief.

Your sleeping position
How you sleep at night will help determine which level of firmness is right for you.


Stomach sleepers require a more firm mattress to keep their spine aligned

Back sleepers require a medium mattress in order to consistently support their spine, back, and neck.

Side sleepers require a soft-medium mattress to support the natural contour of their body including their neck, shoulders, and hips.

Buying online is relatively risk-free
While the advent of online mattress retailers does mean the 'try before you buy' mentality is fading, most online retailers offer a 60 to 90 day 'trial period.' So, if you're not fully satisfied with your mattress – it's easy to return or exchange it at little to no cost.

The Best Types of Mattresses for Back Pain

Memory foam
Memory foam was first used by NASA in 1966 to cushion and deflect the effects of gravitational pull experienced by astronauts as they took off and re-entered the earth's atmosphere.[1]
After many years of commercial use, the technology was purchased by a public company and became the latest advancement in mattress technology.
Memory foam is renowned for its ability to soothe and relieve pressure points, support the natural curvature and alignment of the spine, and contour to the body's shape in any sleeping position.
How? It comes down to how the mattress provides support for a prolonged period of time.
When a person lays on an innerspring mattress, after a while, the pressure of the downward gravity – combined with the upward resistance of the bedding material – starts to affect circulation and cause the body to stiffen up.
With a memory foam mattress, the material is able to contour to the shape of the body – as opposed to 'forcing' the body to conform to the mattress – yet still provide support in sensitive areas of the body.
As a result, this can help prevent sore pressure points and ease muscle tension.

Natural latex
Aside from being hypo-allergenic, the latex mattress has become popular due to its natural elasticity, long lifespan, and odourless properties.
A latex mattress is primarily made of natural latex sourced from the sap of the Amazonian rubber tree (Hevea brasiliensis). This means there are no chemicals used in the construction of the mattress.
More affordable hybrid latex mattresses, which combine both natural and synthetic materials, are also available to those on a budget – but who still wish to go above the innerspring mattress.
While latex can often feel surprisingly soft at first, many people comment that soon after the material 'firms up' as your body gently settles into the mattress. This combination of comfort and support can help significantly reduce back pain.
On top of this, if you sleep with a partner, a latex mattress does not transit movement of the body easily. So your partner is less likely to feel the movement of the bed from the other side.

Hybrid
If you'd like to enjoy the 'bounciness' of an innerspring, yet still retain the comfort and stability of memory foam or latex – consider a hybrid mattress.
Generally speaking, most hybrid mattresses have at least two inches of either a memory foam or latex layer on top. The thickness of this layer may be higher in order to provide increased support.
The purpose of this layer is to provide comfortable cushioning and conform to the body's natural shape in order to relieve sensitive pressure points. Underneath, the hybrid mattress has a pocked coil base layer, which helps provide firm support and that desirable 'bounciness' that some sleepers prefer – while also preventing sagging in the middle.
There are many variations of hybrid mattresses. The 'right' one for you will depend on your body weight, sleeping position, and the particular type of back pain you suffer from.
As a useful guide, hybrid mattresses can typically handle heavier weights, as the presence of springs provides extra support. The coils can also provide airflow, however, many memory foam mattresses have their own gel layer to reduce heat levels during sleep. In the end, it really comes down to your personal preferences.