5 Ways to Guarantee the Best Motorhome Holiday with Kids
Written by

NewsServices.com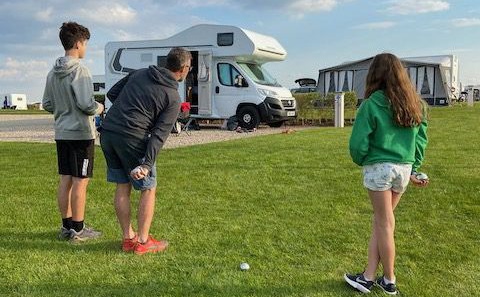 Family vacations are excellent choices because they frequently promise enjoyable and exciting experiences. The entire family can spend quality time together while bonding through this activity. Consider taking a motorhome holiday, if you want to liven up your getaway.
The advantages of travelling in a motorhome can frequently elevate your family's entire holiday experience. However, you should think about the implications of motorhome travel when doing so with your children, and make appropriate plans. Here is some advice from experts to help you and your children enjoy a fabulous motorhome holiday.
1) Include them in the planning
We frequently make the error of keeping our children out of the preparation and planning of the trips they take part in. However, this shouldn't be the case because you should let your kids help plan the trip. Sometimes, the destination and other aspects of your family vacation may not be what your kids want. This frequently keeps them from enjoying the fun time you have in mind. However, finding out what they think will help you choose the best specifics for your motorhome trip.
2) Restrict the number of toys you bring with you
While it is appropriate to let your kids help with the planning and preparation of your RV trips, you still need to assist them. Your young children will frequently want to bring their toys with them, but doing so might defeat the whole point of a trip, which is to have fun seeing new places. Additionally, too many toys on the trip can overwhelm your children, so it's important to keep the amount of toys they bring with them to a minimum. However, it would be beneficial if you let them choose which toys they want to bring along.
3) Keep a first aid kit on you
Motorhome travel with kids can be enjoyable, but it can also be quite risky because your kids could easily get hurt while travelling. You will typically find yourself in a place where there are no nearby clinics or hospitals. In these circumstances, you might need to administer first aid to the victim before looking for a medical facility. Without the proper equipment, you might not be able to accomplish this, which is why having a first aid kit is so important. You can handle any medical issue on your trip with the aid of a first aid kit that is fully stocked.
4) Choose the Proper Attire
You should be aware that environmental factors outside of your home may differ from those there. Therefore, it is only advisable to research the weather in your intended vacation location and pack appropriately. For instance, you should know to pack light clothing for your children if you are travelling in the summer, while sweatshirts and pants are suitable for travelling in the cooler months.
5) Pick Family-Friendly Campsites
The comfort of your children should be taken into account when selecting a motorhome campground for your family vacation. Choose campgrounds with kid-friendly amenities so your children can enjoy both the indoors and outdoors while you're away.
Conclusion
Motorhome travel is an enormously exciting activity, and it will only be enhanced by spending time with family. To maximise the fun and excitement on your family's next vacation, think about renting a motorhome. When travelling in an RV with children, there are certain guidelines that must be followed, and this article has highlighted some key advice.
Find the motorhome you have always dreamed of
Discover the motorhome you have always wanted to own, by casting your eyes over the following new and used motorhome vehicles:
QLD: New Gold Coast QLD Motorhomes For Sale / Used Gold Coast QLD Motorhomes For Sale
NSW: New Sydney NSW Motorhomes For Sale / Used Sydney NSW Motorhomes For Sale
VIC: New Melbourne VIC Motorhomes For Sale / Used Melbourne VIC Motorhomes For Sale