The Imperial Hotel Launch Party Re-Excites Sydney!
Written by

Cara Barilla Educational Columnist and journalist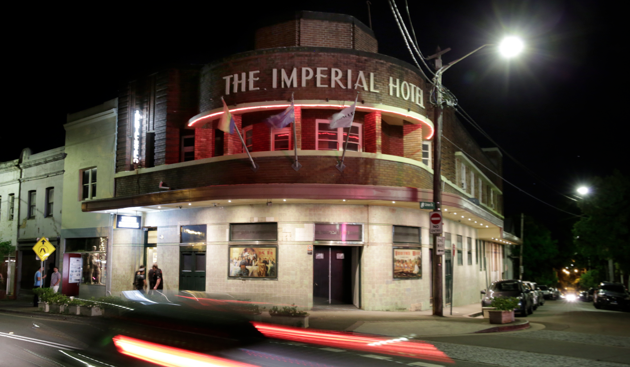 Within the Quaint historical mid streets of Sydney's inner city suburb Erskenville comes a great grandiose extravaganza launch of the Imperial hotel.
Since 1983 The Imperial has been illustrated as an icon and a true Sydney foundation. Over the years established, The Hotel has developed a heightened personality and a bright new feature as it re-opens its doors in a diverse harmony of culture.
"We invite you to Drink, Dance, Drag & Dine in style at our new Restaurant Priscillas!".
The celebration of expressing ones true colours, glitter and sequins truly brings together passion for local individualism, performance, dance and good music. Not to mention the in house drinks and food are of high caliber in deliverance, customer service and distinctive features.
Within the Basement, The Guests are entertained by the luminous performances of the ingenious entertainers from; Heaps Gay, Girl Thing, Honcho – as well as Their in house show "Big Kids Pure Disco on Friday nights".
Depicting a true celebration of pride, natural liberation in art, music, dramatic dance and the love of good local food, creative alcohol mixtures and a warm openhearted community was highlighted at the Imperial Hotel Launch last night.
Feathers, Leather, Lace, and glitter was flooding the vintage rustic dynamic 1800's established building VS. the interior design and decor of an miscellaneous 1977 Havana party.
The ingenious martinis, cocktails, wine and spirits inhibited strong essences of personality, inventive fun bubbly touches, which cleverly suited any dietary requirement.
The artistic Launch captivated and awed the guests as the showcase of facial art, pole dancing and an all- night excellent dj escape was inhibited at the launch.
The new menu is enchanting with it's genuine thought through meals, sides and desserts to cater to anyone whether you are vegan, vegetarian, gluten free or anything in between. The classy derived menu is creative, entertaining and complimentary of the foods surrounding themes for an eclectic appetite.
The staff were greatly welcoming and just as excited to be a part of the event as the dancing guests and VIPS were. A charming feeling of local warmth, splendor and creative gestures to cater for any diverse social group at a well-priced all rounded menu.
From floor to roof, from doorman to in house staff, the deliverance was sensational, completely uniquely buoyant & stimulating as there is something new partaking each week as its own exciting feature through complete sheer, queer delight.
This Local Hotel is one to definitely keep your eye out for as this successful "Diamond In The Rough" will definitely keep you on your toes!
For more information please visit: www.imperialerskineville.com.au