Best Car Maintenance Tips from Pros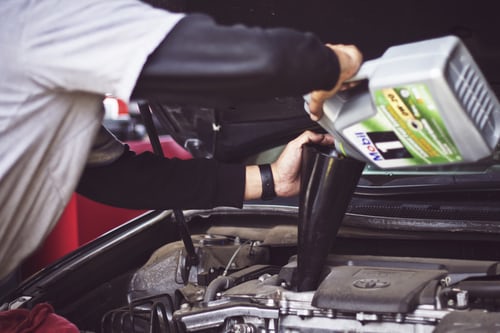 Our cars are probably one of the best examples of how our lives have changed over decades and how much technology has developed. More experienced drivers probably remember the times when changing the spark plugs, breaker points and condenser had to be done every year and when body rust was considered a normal, though unfortunate, hazard of aging. Nowadays, our cars need much less-frequent service to keep them up and running and many of the problems are diagnosed and corrected using modern technology. Still, that doesn't mean drivers should neglect maintenance of their vehicles. On the contrary, it remains crucial, as it was the case before. To help you understand the scope of your responsibilities, we've prepared the following list of tips from professional mechanics.
Check the engine oil
Most modern cars will let you know if there is a problem with the level of engine oil, but some older models don't have that feature, which means you should inspect the engine oil regularly, especially if you notice an oil leak or find that your need to add oil routinely. To get an accurate dipstick reading, park your par on level ground and let the engine cool before you check the level. Needless to say, if you have a leak, you have to react quickly and take your car to a mechanic.
Tire air pressure
This should be done on a monthly basis and before any extended road trips. Use an accurate tire-pressure gauge to check the inflation pressure in each tyre and don't forget the spare one. Always rely on the vehicle manufacturer's recommendations and not the maximum pressure embossed on the tyre's sidewall. In most cases, you'll find the recommended pressure on a placard on a front doorjamb, in the glove compartment or the owner's manual. Also, you should inspect tyres for abnormal and uneven wear, cuts and any sideway bulges.
Use only top-quality parts
No matter how reliable your car is, there will be moments when you'll have to replace a part or two. Unfortunately, many car owners opt for cheaper parts in order to save money, which is unfortunate. Namely, such parts are usually of low quality and lead to all sorts of problems later, which means you can easily end up paying much more. So, even if you have a model produced by a trusted brand, such as Subaru, always choose the finest products on the market, such as those you can find at the renowned Perrin autoparts.
Regular washing
Depending on the conditions you're driving in, you need to wash the car at least once a week. Make sure you wash the body and hose out the fender wells and undercarriage to remove dirt and road salt, especially during the winter season. Also, it helps if you keep your car in a garage or under some kind of shelter. Not only do you protect it from various types of dirt, but your paint will suffer less due to the exposure to sunrays.
Check the exhaust system
Making under-car inspections is also important. You need to check for rusted-through exhaust parts that you should replace, and you'd better tighten all loose clamps. You can take your car to a shop to change your oil, for example, and ask them to make these checks. Additionally, you should listen to the sound your exhaust system is making. If you notice some difference, it's time to pay a visit to your mechanic. Don't forget that it's usually much better to have the whole system replaced, rather than to repair sections at different times.
Inspect the brakes
One of the vital parts that ensure your vehicle is safe are definitely the brakes. That's why you should pay special attention to them and have them inspected regularly. If, on the other hand, you handle your own brake work, make sure you remove all wheels and examine the brake system. Excessively worn pads or linings should be replaced and so do badly scored rotors or drums. You should perform a brake inspection twice a year or even more often, if you drive a lot of miles.
These are just some of the most important tips related to vehicle maintenance that are recommended by seasoned professionals but there are other vital servicing requirements to consider, such as radiator servicing. The better you look after your car, the longer it will serve you without any problems and you and your family will be as safe as possible, which is the ultimate goal of having a car.