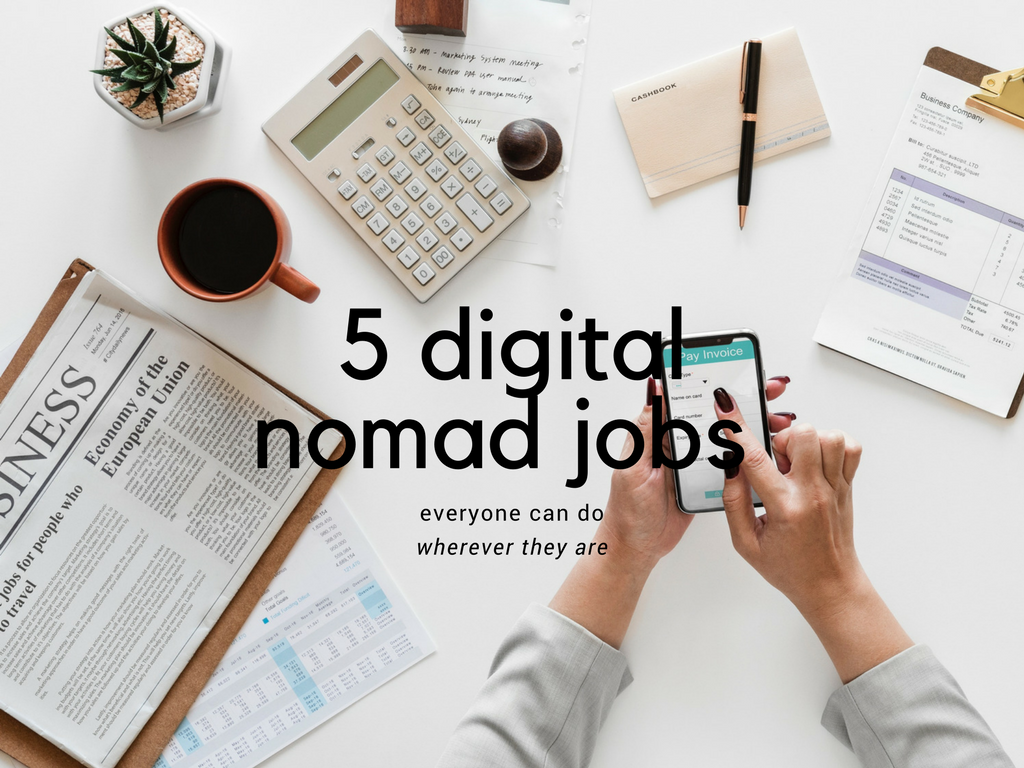 If you've been browsing the internet looking for jobs, at some point you must have encountered the term "digital nomad job". In a more narrow sense, these jobs are mostly associated with people whose work is tied to the computer and the internet. They're not required to work from an office or a specific place, but are able to do their jobs more or less anywhere, whether it is an office, a foreign country, or a local park. This advantage is one of the reasons why digital nomad jobs are growing ever more popular. The following five are among the most wanted digital nomad jobs waiting for you.



Transcribing


People often search for high-quality transcribing services online. This job consists of the following: the employer provides you with certain audio or video material that contains spoken language, which you are expected to put in written form, exactly as it is in the recording. You are creating a textual representation of what is said in the material. Sometimes there may be specific instructions or patterns that you need to follow when transcribing, depending on the needs and requirements of your client, for example, how certain things should be marked or emphasized in the transcription, and so on.


Online teaching


A variety of websites, schools, and freelance or academic platforms list online teaching jobs you can apply for. Those are typically, though not necessarily, related to language teaching. Tutoring services are always in demand, so this is a great opportunity to turn your knowledge into financial support. You can work with both children and adults, and establish communication with people from around the world. It can be a truly exciting and fulfilling experience if you love to share and connect with others. Since students are often from different countries and continents, implying different time zones, there is no rule on when lessons take place. Yes, that means that you can even teach in the middle of the night!



Participating in surveys


Sounds unbelievable, but there it is! The world of the internet actually offers you the chance to get paid to take surveys. By contributing to online market research surveys, you can earn money in the comfort of your own living room, favorite café, or any other place that motivates you to work. The procedure is usually really simple: you are asked to sign up (for free) and provide most basic personal information, such as your name, age, or gender, after which you can be surveyed. The questions often revolve around different services or products that you use or know something about. This is a truly convenient way of investing your spare time into doing something useful for both yourself and those who show genuine interest in your opinion.


Copywriting


This highly rewarding job allows you to determine your own schedule, work hours, and pace. So, if you're the creative type and have a good command of language, this may be just the right option for you. Copywriting involves producing text, but not just any kind – it needs to be fit for the purposes of marketing. This means that the texts you write ought to be persuasive and draw attention to your cause or product in such a way that would trigger a certain, desirable, response in the reader, usually in the form of an action. The better writer you are, the busier you get, as excellent copywriters are highly appreciated and sought after nowadays.



Photography
In case you have a knack for visual art and have a good camera, photography is another option. Selling your masterpieces can also be a decent source of income, as there are many photography websites where you can do just that. Offer fresh, original, unique images that truly stand out (remember, the competition is enormous!), and build your reputation and portfolio that will push you even closer to being a successful, well-paid photographer.
Of course, the list doesn't stop here. So, use your technology wisely and embark on the journey of discovering your perfect digital nomad profession.